Lawrence's school district and its teachers union negotiated for about two and a half hours with a mediator before coming to an impasse Wednesday as neither side flinched on their salary proposals for the 2012-13 school year.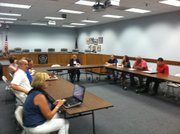 The district and its teachers remained $500 apart on their proposed salary increases. Teachers are paid based on a pay schedule that provides more money both for teachers with more education and for teachers with more years of service, up to a maximum amount.
The district's negotiating team stuck to its offer to increase each level on the schedule by $1,000, and the union stayed behind its offer that would have increased each level by $1,500.
Kyle Hayden, assistant superintendent for business and operations, said the district received $1.4 million in new money from the state and committed all that money to its current offer for teacher raises, while also contributing $1 million to hire additional staff.
"They feel like they've given all they can give," Hayden said.
David Reber, a Free State High School science teacher, is the lead negotiator for the teachers. He said Lawrence's teacher salaries lagged behind other districts and pointed out that a one-time payment of $1,000 made to teachers last year would be going away this year.
"Their last offer would essentially be that nobody takes a pay cut," Reber said.
The teachers and the district will now begin a fact-finding process that could last well into the school year, though the two sides could still reach an agreement at any time.
An independent fact-finder would conduct a hearing and issue a nonbinding recommendation, and then the parties would reopen negotiations. If the school year begins without an agreement, teachers would work under the previous year's salaries.
Copyright 2018 The Lawrence Journal-World. All rights reserved. This material may not be published, broadcast, rewritten or redistributed. We strive to uphold our values for every story published.