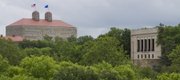 Subscribe to the email edition of Heard on the Hill and we'll deliver you the latest KU news and notes every weekday at noon.
Your daily dose of news, notes and links from around Kansas University.
• The search for KU Medical Center's next executive vice chancellor is continuing, with a small group of candidates beginning to come to campus for initial visits.
The position is an important one for KU, reporting to the chancellor and serving as the leader of the Kansas City, Kan., campus.
Ed Ellerbeck is the chairman of the search committee, and he filled me in on a few details so far.
"We are bringing people in for 36-hour visits," he said. "It's a pretty grueling schedule."
About six people, including both internal and external candidates, are still in the running, Ellerbeck said, though that list could still expand a bit.
He declined to identify the candidates, but said the list of finalists eventually would be winnowed down to no more than three names. The plan currently calls for those people to be brought to campus for public presentations, he said.
After that, the group of finalists would be sent to Chancellor Bernadette Gray-Little for review. She told me on Tuesday that she hopes to have someone named by the fall, though that person may not officially begin in the job until sometime after that.
After the executive vice chancellor is selected, a new process would begin to identify an executive dean for the School of Medicine. Barbara Atkinson, who recently retired, held both positions, and Gray-Little decided she wanted to split them back up.
• I also talked briefly with Bill Lacy, director of the Dole Institute, on Tuesday. He was excited to be able to bring Donald Rumsfeld, the former secretary of defense to presidents Gerald Ford and George W. Bush, to campus for an interview.
Rumsfeld is scheduled to visit for an interview with Lacy followed by a book signing beginning at 4 p.m. on Thursday, July 26.
Lacy did bring up one other point, too. He said that while he always prefers to bring in these kinds of speakers during the school year when students are present, that's not always possible.
Because the institute does not offer any speakers' fees or honoraria for appearances, they're a bit more beholden to speakers' schedules, he told me.
• After hanging out at the KU Hospital Board's meeting on Tuesday, I learned that the group's annual fundraiser is going well so far.
Bob Page, the hospital's CEO, said that more than $971,000 had been pledged toward the event's sponsorship goal of nearly $1.2 million.
The annual fundraising event for the hospital is set for Sept. 7 at the Kansas Speedway.
This year, the funds raised will benefit the lung cancer program at the KU Cancer Center. In its first 10 years, the event has raised nearly $5.5 million in support of the hospital's patient programs, cancer technologies and upgrades to facilities.
• There's no search committee that tries to find tips for Heard on the Hill. I rely on you to send them in directly to ahyland@ljworld.com.
Copyright 2018 The Lawrence Journal-World. All rights reserved. This material may not be published, broadcast, rewritten or redistributed. We strive to uphold our values for every story published.