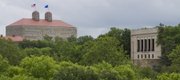 Subscribe to the email edition of Heard on the Hill and we'll deliver you the latest KU news and notes every weekday at noon.
Your daily dose of news, notes and links from around Kansas University.
• I've been talking with a lot of different folks as we prepare to put out the Journal-World's annual KU Today edition that comes out each August, so I've been gathering all kinds of little tidbits here and there.
One of them is some changes in the School of Business' master's of business administration program.
The MBA students will be going to a new program in fall 2013. The program will go to an 18-month program, instead of the current two years, Dean Neeli Bendapudi told me.
"It will be much more intense, much more hands-on," she said.
She said the changes will also include "certificates" or specializations that students can earn as part of their MBA degrees. What she was describing was like a mini-major. Students will be able to in some sense create their own program, in some cases even taking courses outside the business school.
Stay tuned for more details on that front.
• Missouri's governor made it official last week, and so it looks like no Jayhawks on license plates in that state for some time.
The mere mention of Jayhawks on license plates in the state first came up around the second week of May, and after much harrumphing, legislators quickly mobilized around a measure that made sure the proposal would be dead in the water.
As I understand things, the new law essentially makes it so legislators will have to approve all university license plate designs. That's not particularly likely to happen for a KU Jayhawk in enemy territory.
Stephen Webber, a Democratic Missouri representative from Columbia, talked about KU to the Columbia Missourian.
"We're huge rivals with them," Webber said. "You're not supposed to have Jayhawks on Mizzou license plates, and I wouldn't expect to have Tigers on Kansas license plates. The rivalry makes it fun, and part of that rivalry is tweaking each other from time to time."
• Yeah, it's been really, really hot. Though in Omaha, Neb., where I was over the weekend, I was walking around in the afternoon and my phone said the temperature was a mere 84 degrees. I nearly wanted to break out my parka.
But, anyway, KU's Natural History Museum will be sponsoring an event where folks will talking about all kinds of extreme weather events, at 7:30 p.m. on Tuesday at the Free State Brewing Co., 636 Mass.
The Kansas town of Hill City saw five days in a row at 115 degrees
Nathaniel Brunsell, associate professor of geography and atmospheric science, will share some insights into how scientists determine what qualifies as extreme weather, as well as how global climate change seems to cause extreme weather events.
Regardless of whether scientists agree that this recent spell of high temperatures is extreme, I think we're going to go ahead and officially make that call at Heard on the Hill World Headquarters at Seventh and New Hampshire.
• It's extreme tip season here at Heard on the Hill, so I'm expecting a huge bunch of good ones at ahyland@ljworld.com.
Copyright 2018 The Lawrence Journal-World. All rights reserved. This material may not be published, broadcast, rewritten or redistributed. We strive to uphold our values for every story published.