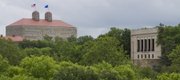 Subscribe to the email edition of Heard on the Hill and we'll deliver you the latest KU news and notes every weekday at noon.
Your daily dose of news, notes and links from around Kansas University.
• In a week, KU will make its grand announcement regarding National Cancer Institute designation. As for the specifics, university higher-ups are still officially mum on what that announcement will be (though it's not really a big secret by this point).
And, anyway, once that announcement happens, a lot of people will be sharing in the credit.
That process is already beginning. A public relations firm paid by the state-backed Kansas Bioscience Authority sent me a list of that agency's contributions to the KU Cancer Center's NCI effort since 2008. The total amount comes to $51.5 million committed during that time, of which $23.1 million has been paid so far.
The biggest single contribution has been a $26.4 million commitment to KUMC's Wahl/Hixon complex. It also contributed nearly $21 million for recruits to fill key leadership posts.
• The KU Center for the Study of Science Fiction has announced its winners of the John W. Campbell Memorial Award for best science-fiction novel and its Theodore Sturgeon Memorial Award for best short science fiction.
A reader chided me the last time I referred to the genre as "sci-fi" in this space last time, so I won't make that mistake again. He pointed out that many fans find the term objectionable, some even pronouncing it "skiffy."
But at any rate, The Campbell Award was shared among Christopher Priest's "The Islanders" and Joan Slonczewski's "The Highest Frontier."
Paul McAuley's "The Choice" won the Sturgeon Award.
A banquet for the winners is scheduled for Friday in conjunction with the Campbell Conference this weekend.
• I've written a bit in this space recently and in the past about student debt, and there's one partial solution I hadn't pointed out before. And what's that solution, your cash-strapped, recently degreed self might be asking me right about now? Think about moving to Niagara Falls, apparently.
The city of about 51,000 is offering to pay back part of folks' student debt if they agree to live there, according to this story I heard on the radio while tooling around in my car earlier this week.
Apparently, the city's mayor is offering to pay back $7,000 in student debt for up to 20 people. About 200 people have applied so far, the public radio show Marketplace reported.
• I'll be out on Friday, and so will Heard on the Hill, but I'll be still obsessively checking my email to make sure I don't miss that tip you're going to send to ahyland@ljworld.com.
Copyright 2018 The Lawrence Journal-World. All rights reserved. This material may not be published, broadcast, rewritten or redistributed. We strive to uphold our values for every story published.