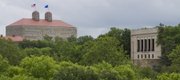 Subscribe to the email edition of Heard on the Hill and we'll deliver you the latest KU news and notes every weekday at noon.
Your daily dose of news, notes and links from around Kansas University.
• You may have heard about a big old bill that lumped student loans and highway funding together that Congress passed on Friday.
The New York Times reported that the bill would spend $6.7 billion on extending the 3.4 percent interest rate on Stafford loans for one year, but restricts the length of time students could get those loans.
The student loan provision was lumped in with a big transportation package, spending $127 billion in all.
U.S. Rep Tim Huelskamp, who represents Kansas' "Big First" district in western Kansas, told the Times he didn't really like the lumping of the bills together.
"This is clearly not exactly what we wanted to do," he said. "People fear the government will just keep growing. This only serves to cement that."
Still, students who would have seen their loan interest rates double to 6.8 percent are probably breathing a little easier this month.
• Over in Kansas City, KU Hospital is continuing its rapid growth patterns of recent years, marking the opening last week of its new Indian Creek Campus in southern Johnson County.
The new location, at Nall Avenue and Indian Creek Parkway, is 42,000 square feet and has seven operating rooms and 19 inpatient beds.
Most of the employees of the former Heartland Surgical Specialty Hospital are now employees of KU Hospital.
This provides a good opportunity to remind folks (because I get this question every now and again) about the differences between KU Hospital and KU Medical Center. The two are affiliated, but operate in fundamentally different ways.
KU Medical Center is where all the professors teach and students perform research. KU Hospital is where patients go to receive treatment.
Both have facilities near 39th Street and Rainbow Boulevard in Kansas City, Kan. The medical center receives state funding, but KU Hospital doesn't.
• It's the summer, and as per usual, the KU Alumni Association is taking its show on the road.
I spotted a news report of members of the association stopping in Liberal for a golf tournament there.
The association reports it's already done 34 events and staffers have traveled 19,291 miles.
You can check out the whole schedule to see what's coming in your area here.
• I've heard that the weather will cool off if you send in a tip for Heard on the Hill to ahyland@ljworld.com.
Copyright 2018 The Lawrence Journal-World. All rights reserved. This material may not be published, broadcast, rewritten or redistributed. We strive to uphold our values for every story published.