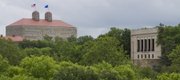 Subscribe to the email edition of Heard on the Hill and we'll deliver you the latest KU news and notes every weekday at noon.
Your daily dose of news, notes and links from around Kansas University.
• As I foretold, KU released its 2012 State of the University video featuring Chancellor Bernadette Gray-Little on Monday.
I listened to the speech with likely a different ear than most — I was looking for tidbits that were new to me or reflected upcoming changes in policies.
The chancellor discussed many upcoming policy changes, but most of those I'd heard of (and reported on) before — including changes to the general education requirements, new scholarships, an early intervention program, along with other stuff, too.
One thing I did notice: This was far and away the most prominently KU displayed its goals as part of its strategic planning. Namely, a first-year retention rate of 90 percent, a six-year graduation rate of 70 percent and increasing current research funding by 40 percent.
So just how bold are these aspirations? Gray-Little didn't mention where things stand today, but I will.
In fall 2011, KU's first-year retention rate was 79.9 percent. Going back to 1994, that rate has never been higher than 82.7 percent.
And in 2011, we can count back six years to the freshman class of 2005 to see how many have graduated in six years. It turns out that rate is 60.7 percent. And going back to the freshman class of 1994, that's near the top of KU's six-year graduation rates. It's never been higher than 61.1 percent.
So it'll be interesting to see whether all this stuff actually works. I'll be watching, and I'm pretty sure I'm not the only one.
• KU is preparing to launch a new website, Political Fiber.
Pam Fine, Knight Chair in news, leadership and community, will lead the site, according to a KU statement.
Fine has used funds from the Knight Chair endowment to hire several recent KU graduates and current students to work on the site, including an editor, Brianne Pfannenstiel, and two full-time reporters, a part-time marketing director, a part-time web editor and a humorist.
The site will aim to provide younger students with political coverage geared toward their needs.
"We say it's politics for people who hate politics," Pfannenstiel said in the statement. "Young people care very deeply about important issues but are completely disillusioned with politicians and political bickering. Our site tries to go beyond the day-to-day politics and address students in a way that is meaningful to them."
The site is scheduled to launch on Wednesday.
• It's the week where KU plays Missouri in basketball on Saturday, so there's quite a bit of vitriol being spewed about.
I think it's even reached a higher pitch than normal, what with Missouri leaving the conference and all.
Missouri's alumni association even went so far as to feature a drawing for two free tickets to the game if you submit a form that lists "Three Reasons Why I'm Not a Jayhawk."
And, of course, I've heard more than a little friendly (not-so-friendly) sniping at this strange video performed by people who I can only presume actually attend that fine institution of higher learning in Columbia, Mo. At least they know how to use Auto-Tune.
• That's all the Heard on the Hill you're going to get for January, but there's plenty more where that came from, so keep sending those tips to ahyland@ljworld.com.
Copyright 2018 The Lawrence Journal-World. All rights reserved. This material may not be published, broadcast, rewritten or redistributed. We strive to uphold our values for every story published.