Photo Gallery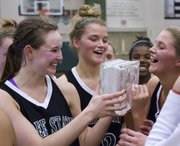 FSHS girls vs. Bishop Carroll
The ending might not have been perfect, but it's hard to argue with a championship.
Free State High's girls basketball team didn't let a few self-inflicted wounds do it in against Wichita Bishop Carroll on Saturday afternoon and held on for a 54-50 victory in the Firebird Winter Classic title game.
Up 10 points with less than four minutes to go in the fourth quarter, A'Liyah Rogers' cut from the weak side for a lay-in with 3:45 left proved to be Free State's final basket of the game. The Golden Eagles (10-3) sliced the FSHS lead to one with 14 seconds left, but Firebirds senior Lynn Robinson hit one of two free-throw tries a second later and — after a Carroll turnover with two seconds remaining — junior Kennedy Kirkpatrick iced the game by calmly burying a pair of free throws.
As the Golden Eagles, the tournament's top seed and the No. 4-ranked team in Class 5A, chipped away at Free State's lead, Firebirds coach Bryan Duncan said the challenge became backing off on offense after playing nearly 30 minutes of aggressive basketball.
"It just turned into kind of a frantic style," he said. "And it's really hard to go from a frantic style to a real controlled pace in the last three minutes."
On top of that, late free-throw woes nearly cost FSHS (9-3). The home team missed five straight at the foul line in the final five minutes before Robinson and Kirkpatrick helped keep Carroll out of reach. Duncan said the Firebirds have grown accustomed to seeing their starters make free throws, and in the heat of the moment the misses were perplexing.
"It's a total shock to your system when you see them miss one, and it feels like the world's caving in — but it's not," the coach said with a grin.
Duncan didn't think his team fully lost its composure and said Kirkpatrick hit the two freebies FSHS "really needed" with just 1.4 seconds on the clock.
Free State held just a one-point lead after three quarters — 41-40 — and the opening minutes of the fourth proved to be the difference. Robinson got things started with a steal and a layup. Then Kirkpatrick went coast-to-coast for a layin of her own as the Firebirds extended their lead to five in less than a minute. Two minutes later, Kirkpatrick pulled up on the right wing and drilled a three-pointer. After Robinson hit one out of two at the foul line and Rogers scored the team's final bucket, Free State was up 10.
The final 16 minutes were a far cry from the first half, when the Eagles' two starting post players, Jordyn Miller and Jana Reichenberger, dominated in the paint. They scored 28 of Carroll's 30 first-half points and got 14 of those at the free-throw line as the Firebirds tried in vain to slow them down.
Duncan said Free State had to force Miller and Reichenberger to do something else in the second half, so the Firebirds decided to speed up Carroll and take the bigs out of their comfort zone.
It worked, too. While Miller finished with 23 points, only four came in the second half. Plus, the post players only shot six free throws after Free State changed things up.
"We kind of went to that helter-skelter defense," Duncan said, "and started trapping and being ultra-aggressive and tried to make it where they couldn't just post up."
The altered defense, he added, allowed Free State's defenders to be get comfortable.
"Instead of Scout (Wiebe) or Abbey (Casady) or Chelsea (Casady) trying to guard girls that are bigger and stronger than them," Duncan said, "they were all of a sudden using their quickness to get in the passing lanes and not allowing them to even get the ball down low."
While Kirkpatrick led Free State with 14 points and seven rebounds, each of the Firebirds' seven rotation players scored and made critical plays to set the team up for its second classic title in three years. Robinson was the only other FSHS player in double figures, with 11, while Chelsea Casady scored nine points, senior Jackie Garcia had six points and three assists, Wiebe scored six points off the bench and both Abbey Casady and Rogers scored four.
Robinson said having seven players contributing differently gave Free State a strong dynamic.
"That helps so much, because we don't have to count on just Kennedy to have a good game," Robinson said. "If Kennedy's a little off, we know at least one other person will step up."
At 5:30 p.m. Tuesday, Free State will play at Shawnee Mission West.
In Saturday's other games at the Firebird Winter Classic, Topeka Washburn Rural beat Leavenworth, 53-48, in the third-place game; Junction City beat Blue Valley West, 44-34, for fifth place; and Lawrence rolled to a 53-24 victory in the seventh-place game.
Copyright 2018 The Lawrence Journal-World. All rights reserved. This material may not be published, broadcast, rewritten or redistributed. We strive to uphold our values for every story published.