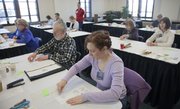 Gripping a pair of scissors, Erin Billing cuts a diamond shape into the center of a crisp piece of blue paper. She repeats the process seven times. Then she peels two pieces of paper from a stack that's a darker shade of blue, and she inserts them into the diamond slit. She works methodically, slipping two pieces of paper into the opening at a time. Her husband, Ben Cartwright, sits next to her and does the same thing. After a few minutes, each bundle of paper begins to resemble a book — about five inches long, with slightly curved edges.

"This is fun now," said Cartwright, examining his book. "I'm sold."
Cartwright and his wife were participants in a bookbinding workshop hosted by Watson Library. The workshop attracted about 25 people, all of them book lovers.
One woman's sweatshirt read, "There's no such thing as too many books," a phrase Whitney Baker, conservator for the Stannard Conservation Laboratory, would probably agree with. Baker has won awards for her writing on book conservation, and she has worked painstakingly to preserve books and bumper stickers. Baker and Roberta Woodrick, also a conservator, oscillated leading roles at the workshop, one of them folding and creasing while the other doled out directions to the people in the audience.
Participants assembled four different structures: an accordion book, a pamphlet stitch, a sewn book and a tab book. All of the books were constructed without adhesive by using simple tools.
On the table in front of each person was a collection of book-making devices: a pair of scissors, needle and thread, assorted paper and a bone folder.
"This is in every bookmaker's tool box," said Baker wielding the bone folder, an object, sometimes made of bone, that looks like a giant Popsicle stick with a dull edge. The bone maker is used to create a smooth crease onto the folded paper.
A cluster of KU students apprenticed in bookbinding walked around the room and hovered over tables, offering help whenever someone bungled a step in the book-creation process.
"I feel like one of my mother's second-graders," Billing said. "What I have discovered is that I'm really bad at cutting the paper." She gestured to the jagged edges of her book pages.
It was Cartwright who had prompted the couple to attend the workshop. Cartwright is a graduate student in KU's English department. He is studying poetry but dabbles in other genres.
"I'm very interested in the art of the book," Cartwright said.
Ingrid Horton also participated in the workshop because of an interest in the history of book production. Horton has a master's degree in library information science and a doctorate in French literature.
"I'm interested in the history of the book and book bindings and conservation," she said. A seamstress, Horton preferred the sewn book over the other three.
After the bookbinding workshop, the group shuffled down three flights of stairs to take a tour of the Jerry and Katherine Stannard Conservation Laboratory. The hybrid lab, in existence since 1999, houses many book-binding machines — book presses, job backers, table sheers and backing hammers — some that appear to have been produced before the industrial revolution.
"We have a tool called the guillotine," Baker said during the tour. "It's like the (device) from the French Revolution but with a lot more safety features."

Billings was happy she attended the event, seeing gift potential in the book-making methods she learned at the workshop.
"It would be really fun to (use this skill) to make personalized, miniature anthologies of poetry," Billing said. "You could totally use this to make someone a high-tech greeting card."
Copyright 2018 The Lawrence Journal-World. All rights reserved. This material may not be published, broadcast, rewritten or redistributed. We strive to uphold our values for every story published.