Photo Gallery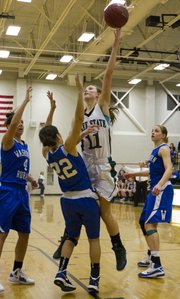 FSHS girls vs. Washburn Rural
Kennedy Kirkpatrick had been in this situation before.
At practices, Free State High girls basketball coach Bryan Duncan commonly gives the Firebirds late-game scenarios. Something like: The clock is winding down, FSHS needs a basket, go get it.
So when that situation presented itself Friday night against Washburn Rural in the Firebird Winter Classic semifinals, Kirkpatrick knew what Duncan wanted, no timeout necessary.
With the game tied, Free State's 5-foot-10 go-to guard dribbled calmly at the top of the key, waited for the clock to go under 10 seconds, crossed over Blues junior guard Erica Lane, drove left and scored a layup with four seconds left to give FSHS a 38-36 victory.
"I thought it worked pretty well," Kirkpatrick said of the well-rehearsed play.
Duncan praised Kirkpatrick, who finished with 16 points after scoring the decisive bucket, saying he trusted her as a "great player" to go one-on-one.
"We said, 'Hey, go make the play,'" Duncan related.
It was one of many plays for Kirkpatrick in the final eight minutes. Even though she was 1-for-7 from the floor after three quarters, the junior scored 12 of the Firebirds' 15 fourth-quarter points by hitting four of her seven shots and all three of her free throws.
"She's a great player," Duncan said, "so when she's struggling a little bit, you just tell her to keep shooting,"
FSHS (8-3) was in dire need of some late-game heroics. The Firebirds had scored just 23 points through three quarters and trailed by seven entering the fourth. Scout Wiebe hit Kirkpatrick for a three-pointer to open Free State's comeback, and after an A'Liyah Rogers free throw cut the Blues' lead to three, Kirkpatrick scored her team's next seven points.
Rural's lead was down to two with two minutes to go, and FSHS senior Jackie Garcia tied the game at 36 with 57 seconds left with an offensive rebound and bucket in the paint.
Kirkpatrick was proud of her team's ability to fight back and win to advance to the tournament championship game.
"We always keep our composure," she said.
Duncan agreed and liked what he saw as his team fought back.
"We really played from behind tonight for the first time," the coach said. "We've really competed this year, but we've never really taken that extra step to compete against adversity."
More than anything, the Firebirds' calm approach impressed their coach.
"We didn't freak out," Duncan said. "We got down seven, and we called a timeout, and I could tell they were still ready to go."
Different Free State players stepped up at various times, but senior Lynn Robinson provided a steady source of offense in a low-scoring game. Robinson knocked down four three-pointers and finished with 13 points.
Both teams, Duncan said, showed off their strong defenses.
"It was really hard to score," he said. "I think every bucket was earned, and that's both ways."
The Firebirds advanced to play Wichita Bishop Carroll at 2:15 p.m. today in the tournament's championship game. Carroll defeated Leavenworth, 39-28, Friday night.
In other Friday games, Junction City beat Kansas City, Kan., Sumner Academy, 30-26, and Blue Valley West defeated Lawrence, 53-50, in overtime.
Copyright 2018 The Lawrence Journal-World. All rights reserved. This material may not be published, broadcast, rewritten or redistributed. We strive to uphold our values for every story published.