From petting a calf to climbing into the cab of an $82,000 John Deere tractor, fourth-graders got a taste of farm life Thursday morning at the Douglas County Fairgrounds.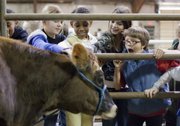 As part of "Slice of Ag," more than 800 students from 32 classrooms will learn over two days about various aspects of agriculture, including tractors, dairy and beef cows, growing grain in Kansas, fruits, vegetables and the importance of washing hands.
All those lessons are intended, among other things, to give students a greater appreciation for the origin of the ingredients on the pizza they enjoy at the end of the program.
"Most of the kids today don't have grandparents or relatives on the farm, so they don't get the chance to visit farms. But we bring the farm to them. So they get to see a cow, see a pig, talk about an acre of corn or soybean or wheat," Douglas County Extension Director Bill Wood said.
Among the animals that students were petting was Bolt, a bottle-fed calf that belongs to Justin Leonard's family. Leonard and two other Future Farmers of America and 4-H students, Nicki Snodgrass and Cheyenne Patton, had students guess how much the calf weighs (880 pounds) and how much it eats every day (16 pounds).
"Cows do a lot more than just make milk," Broken Arrow student Cameron Bohmann said was one of the facts he learned on Thursday. He was among those who got to pet a cow, whose hair he said was more like a dog's than a cat's.
Classmate Mia Robinson's favorite part of the trip was also the cows. She was impressed with what they could do.
"You can use the milk to make butter or other things like cheese," she said.
The event also benefits high school students, who presented much of the agricultural material.
"They really like teaching and working with elementary school students and being advocates for ag," Free State FFA adviser Laura Priest said of her students.
And the elementary students learn something.
"Teachers tell us our kids listen to the students more than they do the adults," Wood said.
Another group of Free State FFA students were quizzing fourth-graders about fruits and vegetables. Broccoli is part of the cabbage family, Brazil grows the most oranges, and tomatoes are both a fruit and vegetable, they told students from Prairie Park School.
Wood hopes those facts and others like them will allow students to leave with a better sense of where food comes from.
"So they know that someone is actually helping raise it, produce it, rather than just coming out of a box in a grocery store," Wood said.
Copyright 2018 The Lawrence Journal-World. All rights reserved. This material may not be published, broadcast, rewritten or redistributed. We strive to uphold our values for every story published.