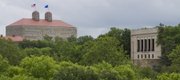 Subscribe to the email edition of Heard on the Hill and we'll deliver you the latest KU news and notes every weekday at noon.
Your daily dose of news, notes and links from around Kansas University.
• If you couldn't wait to march on down to Woodruff Auditorium when Chancellor Bernadette Gray-Little delivers her annual State of the University speech, you're out of luck.
No speech this year.
Instead, the chancellor will appear in an eight-and-a-half minute State of the University video that the university will be releasing Monday.
A KU spokesman told me that changing to a video was the chancellor's idea. He said the video has two advantages: One, it is available to all KU campuses and alumni, and stakeholders get to watch, too. Second, it's possible to show students, faculty and staff who are responsible for the stuff that's being talked about.
The whole idea of a State of the University speech in the first place hasn't been around too long. Something similar (but not called a State of the University speech) used to be done at faculty/staff convocation (which has been rolled into the all-university convocation now). And a similar speech could have been made at the now-discontinued "All University Suppers." I never went to one of those, though.
It's interesting to note how these sorts of speeches have become de-emphasized over time.
But don't fret, you fans of "State of the (Blank)" things. Just log in and watch the video.
• Apparently, KU alumnus and actor Mandy Patinkin let loose with a hearty rendition of "Rock Chalk Jayhawk" at Kansas City's Kauffman Center recently.
This write-up mentions that he was talking about KU at a recent show (I'd love to know what he said if anyone was there) when someone in the audience apparently encouraged him to do the chant, and he obliged.
Patinkin, who played Inigo Montoya in "The Princess Bride," apparently did the chant at least twice with some additional audience participation.
No word on whether he woos.
• And speaking of videos, I've heard lots and lots of people talk about how they enjoyed this sleek video produced by Kansas Athletics featuring footage from the KU-Baylor game. So I'll share it here.
• Don't worry, the State of Heard on the Hill is strong. And that's because you all keep sending me great tips at ahyland@ljworld.com.
Copyright 2018 The Lawrence Journal-World. All rights reserved. This material may not be published, broadcast, rewritten or redistributed. We strive to uphold our values for every story published.