The order of events was atypical Wednesday night for the wrestling edition of the city showdown, but the results weren't out of the ordinary for Lawrence High, the No. 2 team in Class 6A.
The Lions held off rival Free State, 54-21, in a dual that began with the 138-pound weight class instead of the usual starting point, 106.
Photo Gallery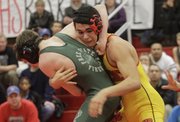 Lawrence High vs. Free State wrestling
Lawrence High vs. Free State wrestling on Jan. 25, 2012, at LHS.
Lawrence coach Pat Naughton thought the already highly anticipated dual would have some extra flair if the rundown got shaken up. He and FSHS coach Mike Gillman agreed to randomly draw a weight class that would start the dual at LHS, and 138 was chosen.
With five ranked wrestlers between 106 and 132, the varied schedule could have rattled Lawrence, but the Lions still opened the dual with a pair of pinfall victories by sophomores Austin Magdaleno (138) and Ryan Bellinger (145).
When Free State answered with back-to-back wins by junior Ben Soukup (152) and sophomore Stan Skwarlo (160), Naughton said LHS started feeling the impact of the revamped order.
"We're strong all the way through, but it's our lightweights that kind of start us off," Naughton said. "But tonight, with the start at 138, we kind of put the pressure on our bigger guys to get going,"
Lawrence held a slim 12-9 lead after four matches, but LHS senior Nick Pursel scored another pin for the Lions heading into the most anticipated match of the night between the top two 182-pounders in 6A, No. 1 Reece Wright-Conklin of LHS and No. 2 Spencer Wilson of FSHS.
Early in the first period, Wright-Conklin took Wilson down and looked like he might manage an early pin. However, Wilson kept his shoulders off the mat then and for the remainder of the match before Wright-Conklin picked up a 10-6 victory and handed Wilson his first loss of the season.
Despite the setback, Wilson complimented his foe for the quick start.
"At the beginning I wasn't sure how it was gonna go, and he caught me," Wilson said.
To the Free State junior's credit, Wright-Conklin said, the match kept going.
"I should've had him there," the LHS senior said, "but he was a strong fighter. He was stronger than I thought he was gonna be."
In the next contested weight class, Lions senior Brad Wilson kept his outstanding season going with a pin of Tyler Sampson. After LHS won eight of the 11 contested matches, Brad said he was proud of his Lawrence teammates.
"We came out and wrestled good," he said. "It couldn't have turned out any better."
One of the few LHS setbacks came in the 285-pound match, when Free State sophomore Reid Buckingham pinned Lawrence sophomore Alex Jones. Buckingham couldn't hold back a celebratory scream as he narrowed the LHS lead to 27-21.
"We're wrestling the number two team in the state and every win counts," Buckingham said of his exuberance. "I'm just happy I could pull one out for the team."
From that point on, however, Lawrence didn't drop another match. With the lightweight classes finishing off the night, Brad Wilson said the Lions were confident they would end on a high note.
"It came down, you know, to the kids that are really good," the 25-3 LHS senior said.
Lawrence's Garrett Girard (113), Ryan Walter (120), Hunter Haralson (126) and Caden Lynch (132) rattled off four wins in a row to secure the victory.
As their teammate, Brad Wilson, put it: "Once the ball started rolling, it was kind of like dominoes."
Even though LHS pulled away in the final four matches, Free State coach Mike Gillman wasn't disappointed with his Firebirds.
"We did awesome," Gillman said. "Everything's about effort. If you don't give up and do the things you're supposed to … That's what we teach in the (practice) room and that's what a lot of these kids did tonight against ranked opponents."
Next up for Lawrence is a Saturday dual tournament at Olathe North. That same day, Free State will be competing at the Osawatomie Invite.
Copyright 2018 The Lawrence Journal-World. All rights reserved. This material may not be published, broadcast, rewritten or redistributed. We strive to uphold our values for every story published.