Photo Gallery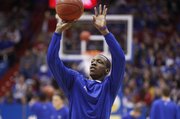 KU vs. Texas A&M
KU vs. Texas A&M
With junior forward Khris Middleton's 12.4 points per game and general experience out of the Texas A&M; lineup because of injury Monday night, scoring became an issue for the visitors from College Station, Texas.
Of course, that's been the case all season for the Aggies, who entered Monday's game averaging just 63 points per contest and fell nine points shy of that mark in a 64-54 loss to No. 5 Kansas University at Allen Fieldhouse.
Trying to describe just what went wrong on offense during his postgame meeting with the media, A&M; coach Billy Kennedy painted a picture of a team that played about the way it hoped.
"We executed our game plan about as well as we could tonight," Kennedy said.
Even so, the Aggies still could not score, and that hurt them big-time in the second half. After taking a 30-28 halftime lead, A&M; scored 24 points in the second half, including just 16 points in the final 14:43.
"Well, you just look at how limited we are," said Kennedy, trying to explain the low output. "When you lose Khris Middleton, that puts a lot of pressure on the team, and we really struggled offensively."
Monday's offensive performance was such a challenge that Kennedy actually praised the three buckets he received from his reserves.
"Off the bench, we had six points today," Kennedy said. "And that's six more than we've had a couple of games during the year."
A&M; (11-8 overall, 2-5 Big 12) shot 42 percent from the floor and 58 percent from three-point range. It wasn't that the Aggies shot poorly, more that they just could not get shots consistently.
Trailing 40-38 after a pair of free throws from KU's Thomas Robinson at the 13:47 mark of the second half, A&M; turned the ball over on five of its next six possessions.
"During that stretch, it got pretty loud, and not a lot of people on the floor could hear," said A&M; junior Elston Turner, who led all scorers with 24 points. "We had two or three people running a certain play, and another two running a different play. It was just miscommunication."
Kennedy said the game plan was to try to get to the free-throw line to score a few freebies.
Even that backfired, as A&M; made seven of its 12 attempts while Kansas (17-3, 7-0) made 20 of 23. KU's free-throw total included a clip of 10-for-10 from Robinson, who finished with 18 points and 10 rebounds.
"It was our tempo," Kennedy said. "Any time you hold Kansas to 64 points on the road ... unfortunately, they were 20-for-23 from the line. I don't know what Robinson's shooting from the free-throw line, but I don't think he's shooting 90 to 100 percent. They made some big free throws."
Monday's game was played to A&M;'s liking, featured some decent shooting statistics for the Aggies and even went according to plan. And, yet, Kansas still won.
There was a reason for that, Kennedy said.
And a big part of it was Robinson.
"The difference the second half was they made a more conscious effort to get him the ball," Kennedy said. "It's hard to keep him out of the paint. We couldn't move him ... That's why he's the player of the year, and Kansas is who they are. They're a great system team, and they played within their system, and it worked."
Copyright 2018 The Lawrence Journal-World. All rights reserved. This material may not be published, broadcast, rewritten or redistributed. We strive to uphold our values for every story published.