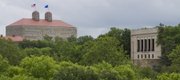 Subscribe to the email edition of Heard on the Hill and we'll deliver you the latest KU news and notes every weekday at noon.
Your daily dose of news, notes and links from around Kansas University.
• As a bit of an addition to the stuff I've been doing recently on e-textbooks, I also chatted some with Estella McCollum, the director of the KU Bookstores.
She told me on the Lawrence campus, e-textbooks are in use in just a small handful of courses. Getting your hands on the technology to lug the books around (like an Apple iPad) can be a difficult price entry point for some.
But, she told me a few KU schools are looking at incorporating iPads into the classroom in a variety of different ways. I'm aware of a few such initiatives myself, but many are still in the very early planning stages.
And McCollum also turned Heard on the Hill tipster on me and alerted me to this ProfHacker blog post from the Chronicle of Higher Education written by Doug Ward, an associate professor of journalism, detailing his experience with iPads in class.
In Ward's case, his dean approved the purchase of 10 iPads for the class that students got to use, provided they return them at the end of the semester. He's got a number of great observations on the positives and negatives of this approach, and I'd really recommend you go check them out.
• I'll be in Olathe today watching over a meeting of the Kansas Bioscience Authority's Board of Directors. We're scheduled to get a look at the audit ordered for the authority today, so it should be interesting wading through that stuff. Look for an update later this afternoon.
It's been interesting covering the authority for the past few months, as I've had a front-row seat to all the requests KU has made to the authority.
One issue that may come up this week is a retention package for a KU engineering professor.
We may get some more information on that if the professor moves forward with the retention package — including the professor's name. Look for an update on that and a whole host of other issues today and tomorrow.
• Here's a good program that's worth a reminder that it exists.
Law and business students from KU are offering free tax services for people who qualify from Feb. 13 to April 16.
To qualify, you have to make less than $49,000 per year while not itemizing any deductions.
Students who helped last year prepared about 400 returns.
Here's where they'll be. It's a first-come, first-served basis.
• Mondays: 6 to 8:45 p.m., Green Hall, computer lab 306D, third floor library, 1535 W. 15th St.
• Tuesdays: 1 to 3:30 p.m., Penn House, 1035 Penn.
• Wednesdays: 3 to 5:30 p.m., Green Hall, computer lab 306D, third floor library, 1535 W. 15th St.
• Thursdays: 3 to 4:45 p.m., Ballard Center, 708 Elm St.; and 5 to 6:30 p.m., Lawrence Housing Authority, 1600 Haskell Ave. #187.
• Saturdays, 10 to 11:45 a.m., Green Hall, computer lab 306D, third floor library, 1535 W. 15th St.
No sessions are scheduled for Feb. 25 or March 17-24.
• I can't prepare your taxes for you, but I can take your tips for Heard on the Hill at ahyland@ljworld.com.
Copyright 2018 The Lawrence Journal-World. All rights reserved. This material may not be published, broadcast, rewritten or redistributed. We strive to uphold our values for every story published.