Photo Gallery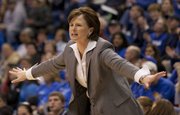 KU women vs. Texas A&M
Related document

KU-Texas A&M women's box score ( .PDF )
To say the Texas A&M; women's basketball team cruised to Saturday's 76-65 victory against Kansas University at Allen Fieldhouse because of layups would be fair.
To say the Aggies (13-4 overall, 4-2 Big 12) were only successful when they shot layups would not be.
Behind 48 percent shooting, including a ton of layups and some timely mid-range and three-point jumpers, the 14th-ranked Aggies controlled things from start to finish and handed Kansas (15-3, 4-2) its second conference loss at home this season.
"It's very hard to watch," KU point guard Angel Goodrich said of A&M;'s layup clinic. "It was like our weakside wasn't there, and we need that. If we're trying to come back, we can't let them have layup, layup, layup. We have to get stops."
The Jayhawks' bid at a comeback kicked into high gear early. After giving up a 10-2 run to open the first half, the Jayhawks spent the rest of the night playing catch-up. At times, it looked as if they might. But too many turnovers and too talented an opponent prevented them from clawing closer than eight points in the second half.
"That was the first hole we dug ourselves," Goodrich said of the slow start. "And you can't do that against a team like this. I think we psyched ourselves out."
Had it not been for an incredible offensive night from Goodrich, the Jayhawks easily would have been waxed by 20 or more.
In yet another complete game, Goodrich finished with a career-high 28 points on 11-of-16 shooting. She also added five assists, three rebounds and two steals. After fouling out with 1:02 to play, Goodrich received a standing ovation from the crowd of 4,149.
"I love the fact that she was that aggressive on offense," KU coach Bonnie Henrickson said. "She gave us a spark and didn't have much behind her. I'm sure, at times, she was looking around, like, 'Hey, I need a little help here.'"
It wasn't all good for the KU point guard, however. Goodrich also finished with 11 turnovers, an area that created problems for KU all night. As a team, the Jayhawks coughed it up 23 times, compared with just 12 for the Aggies. In their match-up with A&M; a year ago, Kansas turned it over 31 times.
"I hate turnovers," Goodrich said. "I knew I had a lot, but I didn't know I had 11. When I looked and saw that, I was really disappointed in myself. Yeah, they're a really good team, but I feel like it was all me."
Added Henrickson: "Where we hurt ourselves is when we picked up our dribble. That's sharks smelling blood in the water."
Despite trailing the entire way, the Jayhawks refused to quit. At one point in the second half, KU trimmed the A&M; lead to eight and had possession. It didn't last long. After a steal by forward Carolyn Davis (10 points, four rebounds) looked to give KU a chance to cut Texas A&M;'s lead to as few as five or six points, Davis threw the ball away under her own basket, and A&M;'s Tyra White scored — another layup — and was fouled.
"That really sucked (the air) out of the crowd, and it sucked the energy out of us," Henrickson said of the failed opportunity and quick turn of events.
One memorable moment from Saturday's loss came early in the second half, when senior forward Aishah Sutherland (seven points, seven rebounds) scored her 1,000th career point.
KU will host No. 17 Texas Tech (14-3, 2-3) at 7 p.m. Wednesday.
Marlene Mawson Award
Midway through the first half of Saturday's game, KU senior Rebeka Stowe, a member of the women's cross country and track and field teams, was honored with the newly named Marlene Mawson Female Athlete of the Year award.
Stowe, who hails from Olathe, is a three-time captain, a two-time All-American and the school record holder in the 3,000-meter steeplechase and indoor distance medley relay.
Senior women's administrator Debbie Van Saun and Mawson, known affectionately as the "Mother of Kansas Athletics," were on the floor to present Stowe with the trophy.
Welcome back
At halftime of Saturday's game, around 20 former KU women's basketball players stepped onto the court and were honored for their service to the KU program.
This weekend was alumni weekend at KU, and several familiar faces from the past received a tour of KU's facilities Saturday afternoon and also attended a reception in their honor prior to Saturday's tipoff.
Copyright 2018 The Lawrence Journal-World. All rights reserved. This material may not be published, broadcast, rewritten or redistributed. We strive to uphold our values for every story published.