Topeka — It had only been eight days since Lawrence High's boys basketball team last faced Olathe South, but Saturday's rematch — for third place at the Topeka Invitational — couldn't have resembled the Jan. 13 Sunflower League contest any less.
Photo Gallery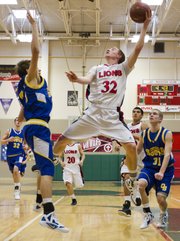 LHS boys vs. Olathe South
With an 11-point loss to the Falcons still on their minds, the Lions routed O-South, 61-41.
The complete turnaround in fortunes for LHS (7-5) was particularly remarkable, considering the Lions didn't have their starting center, Bryce Montes de Oca (out due to an ankle injury), this time around.
It was Lawrence's switch to a 2-3 zone, instead of playing man-to-man, coach Mike Lewis said, that made all the difference. The absence of the 6-foot-7 Montes de Oca forced the change, but Lewis said the rest of the team made the defense work at the invitational.
"We definitely got settled into our zone this tournament," Lewis said. "It just shows that we've got some depth. We've got some guys that can step up and play."
Most importantly, Lawrence's starting five — Jake Mosiman, KJ Pritchard, Shane Willoughby, Anthony Buffalomeat and Logan Henrichs — and sixth man Troy Willoughby excelled at playing an active, harassing defense within the framework of the zone.
Henrichs said the Lions' defense cut down on the ability of O-South (8-3) to drive or get inside. Plus, LHS still had the ability to get out and contest shooters on the perimeter.
"It just made for really tough shots for them," Henrichs said, "and we transitioned off that."
Lawrence's defense was solid throughout, as O-South turned the ball over 19 times and hit just 34 percent of its shots. However, the LHS defense really caught on in the second half, limiting the Falcons to 6-for-24 shooting.
Lewis said the LHS defenders leaned, moved well and were ahead of the ball. Basically, everything was in tune.
"We've got some guys who can be scrappy, and we've got some guys who can work around the basket and rebound and compete," Lewis said, noting that all of that added together made for a good afternoon defensively.
Junior guard Shane Willoughby converted two fourth-quarter steals into four LHS points — first with a transition layup, then by diving on the floor for a loose ball, getting fouled and hitting two free throws. It was all part of a nine-point fourth quarter for the relentless 5-foot-9 guard who finished with 11 points and three assists.
"If we play defense like that all the time," Shane said, "we'll be pretty tough."
Balance, too, made the Lions difficult to beat. Mosiman and Henrichs led the team with 12 points apiece, while Buffalomeat scored 10. Pritchard had nine, and Troy Willoughby came off the bench with seven.
LHS first pulled out to a double-digit lead in the second quarter. The game was tied at 19 before the Lions finished the half on a 13-2 run. Mosiman buried back-to-back three-pointers to get Lawrence momentum and then hit a pull-up jumper in the lane to finish a personal 8-2 run against the Falcons.
Although Lawrence maintained its lead in the third, O-South finally cut into it in the fourth, getting the deficit to eight points near the midway point. It was about that time, Henrichs said, that Lawrence regrouped.
"We just kind of reminded each other we were ahead the whole game," Henrichs said.
Lawrence closed the game on a 17-5 run and made 11 of its 12 free-throw attempts in that stretch to finish 24-for-27 from the foul line.
The avenging victory marked the end of a successful weekend for the Lions, who went 2-1 at the tournament while facing three top-10 teams — LHS beat Class 6A No. 8 Wichita Northwest on Thursday and lost to No. 6 Topeka on Friday before knocking off No. 5 O-South.
Lewis said Lawrence played well in all three games.
"You always want to win a championship, but if you don't, you always want to win two (games)," he said.
The Lions are off until a 7 p.m. Jan. 31 game at Leavenworth.
Invitational All-Academic team
Five Lions were named to the Topeka Invitational's All-Academic team. Honorees had a GPA of 3.5 or higher. Lawrence players named to the team were: Anthony Bonner, Buffalomeat, Montes de Oca, Troy Willoughby and Shane Willoughby.
Copyright 2018 The Lawrence Journal-World. All rights reserved. This material may not be published, broadcast, rewritten or redistributed. We strive to uphold our values for every story published.