Topeka — There was no semifinal magic for Lawrence High's boys basketball team Friday night at the Topeka Invitational.
A day after knocking off the No. 8 team in 6A, Wichita Northwest, with a buzzer-beater, Lawrence lost to No. 6 Topeka, 65-60, at Highland Park.
Photo Gallery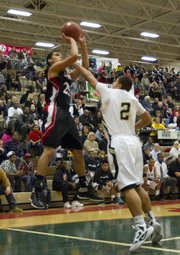 Lawrence High boys basketball vs. Topeka
The Lions (6-5) stayed within striking distance throughout the game, and Topeka (7-2) didn't stretch the lead to double figures until late in the fourth quarter. That LHS deficit coincided, coach Mike Lewis said, with an uncharacteristically high number of turnovers by his team down the stretch.
Beginning late in the third quarter and spilling over into the fourth, Lawrence turned the ball over eight times in 14 possessions, helping the Trojans finally get a little more comfortable.
"We just can't have a gap where we dig ourselves that seven- or eight-point hole. We've gotta be tougher with the ball, be able to handle the physical pressure," Lewis said of the lull, which he described as the difference in the game.
Still, LHS didn't give up in the final minutes. Senior substitute guard Troy Willoughby drove in for a layup to get his team back within eight with just under two minutes left. Next, his younger brother Shane, the savior in Lawrence's opening-round win at the invitational, hit a short fade-away jumper to cut the Trojans' lead to six with roughly a minute and a half to go.
A basket inside by Anthony Buffalomeat at the 1:11 mark got the deficit to four. But a three-pointer by THS senior Evan Robinson and two free throws apiece from Topeka's Marcus Fillyaw and Andrew Dawson in the final minute were enough to offset three-pointers from LHS seniors Logan Henrichs and KJ Pritchard.
Robinson carried Topeka throughout the fourth, scoring 14 of his game-high 24 points in the final eight minutes. The 6-foot-6 forward with range was perfect in the fourth, hitting a pair of three-pointers, two shots from inside the arc and all four of his free-throw attempts.
As Buffalomeat bluntly put it: "That didn't help."
Riding their hot forward, the Trojans went 6-for-7 from the floor in the fourth and hit 13 of their 15 foul shots. Lewis said LHS was too streaky in that same stretch.
"They were on fire," Lewis said of the Trojans. "Every time we seemed to get a little momentum, they countered and hit something."
Buffalomeat said Topeka was a good team, and its execution sent the Trojans to the tournament championship game, where THS will play Sunrise Academy.
"It felt like they didn't miss one shot in the fourth quarter," Buffalomeat said.
It was Buffalomeat who was scorching the nets early on in the game. A night after finishing with just two points, he scored nine of his team's 14 first-quarter points, then added six more in the second on his way to a 20-point, eight-rebound night that set the tone for Lawrence.
"I knew I needed to be aggressive to help out my team," Buffalomeat said.
LHS trailed 38-34 entering the fourth quarter, and that's when Pritchard started carrying the load. After going 0-for-5 from the field in the first three quarters, Pritchard hit three trifectas and scored all 12 of his points in the fourth. His second trey, with 4:39 to go, cut Topeka's lead to 47-43, but he was then whistled for a technical foul for talking with a THS player following the shot, and the Trojans' Robinson cashed in a pair of free throws.
Pritchard, after a quick trip to the bench, came back in and made a deceptive ball fake along the baseline and drew a foul for an old-fashioned three-point play with 3:22 to go that cut the difference to five. However, Topeka scored five straight points to get its biggest lead of the game.
At 3:30 this afternoon, the Lions will face Olathe South in the invitational's third-place game.
— Check out Benton Smith's "Prep Appraisals" from the game.
Copyright 2018 The Lawrence Journal-World. All rights reserved. This material may not be published, broadcast, rewritten or redistributed. We strive to uphold our values for every story published.