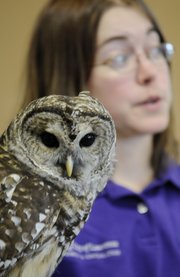 The hot new attraction at Saturday's 16th annual Kaw Valley Eagles Day: a 7-month-old Virginia opossum named Ginnie.
Prairie Park Nature Center naturalist Jen Rader showed off Ginnie to hundreds of families at the event at Free State High School, 4700 Overland Drive.
The marsupial was surprisingly cuddly.
"She was a friendly one," said Rader, telling visitors about Ginnie's human-like thumbs and pouch for carrying babies. Ginnie, who is typically on display at the Nature Center, stayed pretty close to Rader, snuggling on her shoulder. The opossum was rescued after her mother was run over by a car. Ginnie and seven other siblings were found, remarkably, safe and sound in their mom's pouch.
Ginnie was one of numerous attractions at the event, including nature-based arts and crafts, booths featuring environmentally friendly products, and a host of educational activities for kids.
Lawrence resident Jill Ice brought her daughter, 10-year-old Emily, and they browsed the activities. Ice said it seemed like the perfect "cold-weather" activity.
Emily was busy dissecting the excrement of an owl and was surprised to find a wide variety of rodent bones hidden in the waste.
Jett Smith, 8, came all the way from Nortonville with his mom, Danielle, and little sister Evelyn, 5. Jett said it was the fifth year he's been to the Eagles Day.
As he waited for a presentation on eagles, Jett talked about all the exhibits he checked out Saturday.
"I'm an eagle fan," Jett said.
Copyright 2018 The Lawrence Journal-World. All rights reserved. This material may not be published, broadcast, rewritten or redistributed. We strive to uphold our values for every story published.