Photo Gallery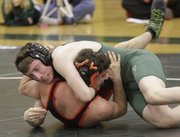 Free State wrestling
Free State wrestlers defeated Shawnee Mission Northwest in a home wrestling meet Wednesday, Jan. 18, 2012.
A Wednesday night wrestling dual between Free State High and Shawnee Mission Northwest might have been billed as Senior Night, but it was the Firebirds' younger wrestlers who snagged the spotlight.
FSHS won eight of its nine contested matches against the visiting Cougars, with five of those coming via pin. It made for a quick night and a one-sided 59-12 victory for Free State.
The night began with freshman David Stubbs (106 pounds) pinning his foe, and that trend continued with freshman Sebastian Joseph (113), senior Andrew McLees (132), sophomore Colton Steele (145) and, in the final match, sophomore Reid Buckingham (heavyweight) each pinning his opponent's shoulders to the mat before having his arm raised in victory.
Sophomore Maurice Jacobs (126), freshman Marquez White (138) and junior Spencer Wilson (195) all earned victories, too.
Free State coach Mike Gillman said the whole team was fired up for a rare home meet, and it was key for so many of the younger wrestlers to score victories on Senior Night, with just two seniors and two juniors in action.
"That's the best part," Gillman said. "We always want our seniors to go out really good, but we want them to get the experience as young kids to come in and wrestle."
The only setback for FSHS came in 170-pound senior Seth Holiday's match, when he was pinned by Northwest's LaPhonso McKinnis (Northwest's other win was in the 120-pound class, which FSHS left open).
Fellow senior McLees said every Firebird wrestler represented the team well.
"It was real exciting," the 132-pounder, 11-7 this season, said. "It helped us get some confidence in our ability."
Steele, a sophomore, said he and his teammates enjoyed seizing an opportunity to dominate.
"It was really nice, because it seemed like they'd be a pretty tough team, but we took them down," the 145-pounder said.
One of the most tightly contested matches actually came when Free State's top grappler, Wilson, took the mat. Because SMNW had an open slot in his usual weight class — 182, where Wilson is ranked No. 2 in Class 6A — Gillman bumped his star pupil up to 195 so he could get some mat time.
The coach said going up against a much heavier opponent can have a huge impact on anyone in that situation.
"It's really hard to do," Gillman said.
Still, Wilson (15-0) was nowhere close to being overmatched. There weren't many explosive sequences for the FSHS junior or his opponent, Cougars sophomore Mario Galvan, but Wilson scored points when he could and held on for a 9-6 victory.
Wrestling a 195-pounder certainly didn't psyche out the sturdy 182-pounder.
"There's a slight weight advantage, I guess," Wilson said.
Ultimately, the junior was glad to share a successful evening with Free State's underclassmen.
"I think it's really good for them, gives them a little boost," Wilson said. "Maybe they'll go out and try harder at other tournaments."
By the end of the dual, the young Firebirds couldn't help but enjoy the spoils of an easy win.
Said Steele: "It felt pretty good just taking over another team."
Copyright 2018 The Lawrence Journal-World. All rights reserved. This material may not be published, broadcast, rewritten or redistributed. We strive to uphold our values for every story published.