At first, Free State girls basketball assistant coach Lauren Kimball didn't say anything to her players after the game. Later, when asked to speak, a few girls joked with her, telling her that she was too depressed to talk.
Kimball, a former Free State standout, watched from the bench Monday night as one of her team's old records was broken.
Photo Gallery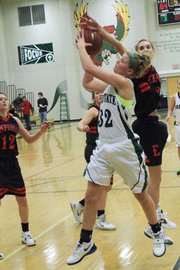 FSHS girls vs. Emporia
BOX SCORE
Emporia (40)
Shelby Starr 1-4 0-0 2, Amber Schaefer 1-3 1-2 3, Kayna Hastings 3-6 0-0 8, Brianna Knight 5-11 6-6 16, Emily Burris 0-4 1-2 1, Hayley Guion 0-1 0-0 0, Whitney Wilhite 1-4 1-2 4, Raegen Sanchez 0-0 0-2 0, Theresa Williams 0-1 0-0 0, Bethany Bowman 0-2 0-2 0, Kennedy Garza 2-2 0-0 4, Amber Schaefer 1-1 0-0 2, Lauren Miller 0-0 0-0 0. Totals 14-39 9-16 40.
Free State (77)
Abbey Casady 4-7 0-0 8, Jackie Garcia 4-7 0-0 8, Kennedy Kirkpatrick 7-13 2-2 17, Lynn Robinson 5-10 1-2 13, Chelsea Casady 4-4 3-3 12, A'Liyah Rogers 2-6 0-0 4, Scout Wiebe 2-6 0-0 4, Summer Frantz 1-4 0-0 2, Ariana Frantz 1-2 0-0 3, Courtney Parker 2-3 0-0 4, Baha White 0-1 2-2 2. Totals 32-63 8-10 77.
Emporia 9 7 14 10 — 40
Free State 23 7 23 24 — 77
Three-point goals: Emporia 3-9 (Hastings 2-5, Wilhite 1-1, Starr 0-1, Burris 0-1, Guion 0-1); Free State 5-18 (Robinson 2-6, C. Casady 1-1, A. Frantz 1-2, Kirkpatrick 1-6, A. Casady 0-1, Parker 0-1, S. Frantz 0-1). Fouled out: None. Turnovers: Emporia 24, Free State 9.
The Firebirds — helped by a 24-point fourth quarter — set a school record for points in a 77-40 victory Tuesday night over Emporia.
"It puts our mark on the school," Free State senior Jackie Garcia said. "It's just definitely a good thing with history and proves we worked hard and got it done."
The previous school record of 76 points was set on Feb. 13, 2006, when Kimball was a junior at FSHS. She scored a team-high 18 points in a 76-48 victory over Shawnee Mission North.
With Free State's reserves playing in the final minutes Monday, junior Courtney Parker put in the final basket to push Free State's total to 77.
"It's huge, because we have such good individuals," Free State junior Abbey Casady said. "I think it's awesome that we can contribute and make a team goal."
The Firebirds had come close to the record twice already this season, scoring 75 points against Shawnee Heights and 72 against Lansing.
The victory snapped a three-game losing streak.
"We came out and did what we needed to do, and hit shots early in the game," FSHS coach Bryan Duncan said.
Much of Free State's offense was generated from its defense, as constant ball pressure and a stingy full-court press forced Emporia into frequent mistakes.
The Spartans turned it over 24 times, which included 14 giveaways in the first half.
Meanwhile, the Firebirds routinely beat the Spartans down the floor for layups on the break. EHS coach Bill Nienstedt was so frustrated with his team's inability to get back that he called three timeouts in the game's first 7 1/2 minutes.
Free State, which led 30-16 at half, was only able to set the record by being efficient late.
The Firebirds had just one turnover after halftime, and its bench players also produced offensively in the fourth quarter. In fact, each of the 11 FSHS players that suited up scored at least two points.
"We have a good shooting team," Duncan said. "And the truth is, some of the kids on the end of our varsity bench who play primarily JV are probably — everybody will tell you — our best pure shooters."
Kennedy Kirkpatrick's 17 points led FSHS, while Lynn Robinson added 13.
Chelsea Casady posted a perfect shooting day, going 4-for-4 from the floor and 3-for-3 from the free-throw line to finish with 12 points and a team-high eight rebounds.
Both Garcia and Abbey Casady posted career-highs with eight points.
Free State (6-3) will play next on Jan. 26 at the Firebird Winter Classic.
Copyright 2018 The Lawrence Journal-World. All rights reserved. This material may not be published, broadcast, rewritten or redistributed. We strive to uphold our values for every story published.