Olathe — Facing the No. 1 team in Class 6A on the road, Free State High's girls basketball team planned on playing a high-scoring game in Olathe Northwest's gym Friday night.
Photo Gallery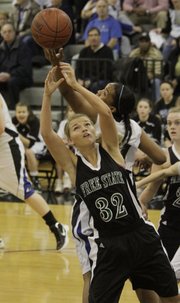 FSHS girls vs. Olathe NW
The Ravens put up some points, as expected, but the Firebirds had a rough night shooting the ball and lost, 50-33.
Free State's struggles began from the get-go, as the visitors made just four of their 22 shot attempts in the first half (18 percent). FSHS fell behind, 24-15 by halftime, but its shooting was only slightly better down the stretch, as the Firebirds finished with a 10-for-44 mark (23 percent) in the road loss.
Abbey Casady, Kennedy Kirkpatrick and Lynn Robinson — who hit a three-pointer and made a layup — accounted for Free State's four first-half baskets. In the second half, Chelsea Casady scored all six of her points in the third quarter, and Jackie Garcia, Robinson and Kirkpatrick each made a shot in the fourth.
Firebirds coach Bryan Duncan said he was actually pretty happy with the team's defense in its third straight loss, and the difference in the game was his team's poor shooting percentage.
"We got a lot of real good looks with the right kids taking some shots," Duncan said.
If someone could have heated up for Free State (5-3) in the first half, when the Firebirds were still within single figures of Northwest, Duncan thought it might have changed the game's flow. He said it was tough on the team to watch so many shots rim out.
"It just felt like if one or two of them goes down, it gives us momentum, it gives us a chance to set that pressure defense," Duncan said.
However, ONW (7-0) didn't often succumb to the pressure applied by Free State and finished with 16 turnovers, compared to the Firebirds' 18.
"They're such a good team; we're not gonna turn them over too often," Duncan said.
Many of Free State's mistakes came as Northwest's Kelsey Brooks (12 points) and Jaylah Jackson (10 points) applied pressure on the ball and in passing lanes.
Duncan gave credit to the Ravens' defense for keeping Free State out of contention.
"They flat-out defend you," the FSHS coach said. "A lot of our inability to score was certainly to do with their defense."
Kirkpatrick, with 10 points, was the only Free State player to score in double figures, and she earned half of her points at the free-throw line. Robinson hit two three-pointers and finished with eight points.
The team's go-to perimeter players and the rest of the team simply had an off night.
"I do feel like we had a lot of opportunities to hit shots," Duncan said.
At 7 p.m. Tuesday, FSHS plays host to Emporia.
Copyright 2018 The Lawrence Journal-World. All rights reserved. This material may not be published, broadcast, rewritten or redistributed. We strive to uphold our values for every story published.