Olathe — Not until adversity came its way did Olathe South look like the sixth-ranked 6A team in the state. Then the Falcons did what good teams generally do and played its best when things looked their worst on the way to a 54-43 home-court victory Friday against Lawrence High.
Photo Gallery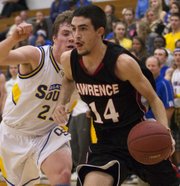 LHS boys vs. Olathe South
Logan Henrichs had just stolen the ball near mid-court, went up strong, drew the foul and made the shot and the free throw to cap a six-point Lions run and pull the score to 37-33 with 6:32 left. At that point, a less disciplined team might have a player looking into the stands to an external force for affirmation in blaming someone — a teammate, a coach, the evil spirits of Friday the 13th, anybody. Not the Falcons. They looked only to their coach and to each other to right themselves. They kept their heads up, thought about the next play and took their time making it.
It was then that O-South (7-1) patiently worked the ball around, eating more than a minute of clock, just waiting for a defensive player to make a mistake that would create an opportunity. A defender turned his head for just an instant and, bam, Luke Hougland cut back-door and was fed the ball for an easy layup that triggered a six-point Falcons run that put the game away.
In losing a game they led 7-4 after the first quarter, the Lions (5-4) did not have a single player reach double figures in scoring. They did get strong performances off the bench from a pair of brothers short in stature and long on hustle and toughness. Junior Shane Willoughby led the Lions with nine points and senior Troy added six. They combined to score 12 of Lawrence High's 27 second-half points.
Playing sound defense, LHS took an early lead. Senior KJ Pritchard hit a three for his only field goal of the night to get LHS on the board. Junior guard Jake Mosiman's shots didn't drop as often as usual on this night but neither did his high basketball IQ. He used it to set up Bryce Montes de Oca for a pair of easy baskets to give the Lions a 7-4 lead at the end of the first quarter.
Olathe South took advantage of a half-dozen second-quarter turnovers to take a 22-16 lead into the half. Other than a blink of an eye early in the fourth quarter, the lead stayed at a safe margin.
"We're just not very good at playing from behind right now," LHS coach Mike Lewis said. "We need to be able to step up and make a shot and get a stop on defense and come back again and get some momentum. There wasn't anything continuous we could use as fuel for our fire."
The Lions had trouble finding the holes in O-South's extended 2-3 zone and often settled for three-pointers, making just 5 of 15 from beyond the arc.
Olathe South coach Jim Carr saw in his team the improvement that Lewis hopes to see in his as the season progresses.
"We've had a tendency to shoot ourselves in the foot a little bit," Carr said. "So that's in the back of our mind, but tonight they bowed their neck and played much tougher mentally and were able to withstand the pressure. I think that was the difference for us. And we hit some free throws down the stretch (9 of 12 in the fourth quarter). Lawrence is a good team. They've got great personnel and they're scary."
Five different Lions made a three-point shot, but nobody caught fire.
"If we get better on the defensive end and shoot the ball well, we're going to be tough," Shane Willoughby said.
The Lions' defense played a big part in Olathe South shooting just .308 in the first half (.440 for the game).
"I thought we played good enough defense, especially in the first half, to have a shot," Lewis said. "And I look at the guys, and I think we've got a good enough team to compete with anybody. On occasion we check out and when we check out, we stand around, don't work real hard on defense and are just kind of out to lunch."
When Lewis sees players out to lunch in future games, he won't hesitate to replace them with a pair of hungry brothers off the bench as he did Friday, but it wasn't enough to catch the unified Falcons.
Copyright 2017 The Lawrence Journal-World. All rights reserved. This material may not be published, broadcast, rewritten or redistributed. We strive to uphold our values for every story published.