Students from across the Lawrence school district are working to answer a particular question. It's a question that may — like them — seem small, but is ultimately powerful. It's the question Martin Luther King Jr. described as "life's most urgent:" What are you doing for others?
Other MLK Day events
• National Day of Service, Monday (see volunteerdouglascounty.org for local volunteer opportunities)
• New York School chili feed, 5 to 7 p.m. Tuesday at the school, 936 N.Y.; free-will donations accepted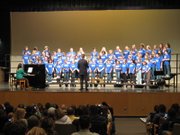 On the street
Helping communities around the world.
"Rockin' Jerusalem"
They gathered at Free State High School on Thursday for the district's annual event honoring King to talk about how the hundreds of hours of community service they've done helps answer this question and enrich their communities.
Superintendent Rick Doll opened the event by saying that "living the legacy" of service left by King was a main educational goal for the schools.
"From preschool to high school, our students are learning the power of one," he said. "They're learning through service for others."
Representatives from each school in the district then gave presentations about the fundraisers and donation drives, sacrifices of pennies and candies, that they organized and participated in throughout the school year so far. Many touched on the theme of the program and of their community efforts, also derived from a King quote: "Everybody can be great because anybody can serve."
Christian Faulkner and Anna Kitchen, fifth-graders at Sunflower School, talked about the money students and parents raised for a boy diagnosed with non-Hodgkin lymphoma. That little boy was Christian himself, and he talked about how personally the efforts had already helped him.
"I know cancer cannot invade the soul," he said.
Emma Krause, a fifth-grader from New York School, said that King's legacy was felt through the tolerance and support at her school.
"Children of all colors can learn and play together," she said.
Abby Afful, a fourth-grader at Kennedy School, passed on the wisdom of the golden rule for making sure this remained true.
"If you don't want something done to you, don't do it to others," she said during her part of the presentation.
Broken Arrow School second-grader Aiden Berndsen-Perez talked about his school's anti-bullying efforts and the nearly 1,000 pounds of food collected for Just Food, the Douglas County food bank. Langston Hughes fifth-grader Ashley Dykes told of her school's pop-tab collection for Ronald McDonald House, a charity that supports families of seriously ill children. South Middle School sixth-grader Diamonique Vann said students at her school were "learning to care and caring to learn" through their various programs.
Quail Run students spoke not just of a local community but a global one. They raised more than $500 and bought three goats to help feed children in Africa through a program called Heifer International.
The Sunflower School choir sang a spiritual and a folk song before the Rev. Paul Winn Jr., of the Lawrence Ecumenical Fellowship, closed the ceremony.
Winn said he hoped to inspire students to be strong community members through doing "push-ups," an acronym for giving and growing — Pattern yourself after leaders, Urge yourself to continue education, Share with your community and look to Heights to dream big.
Copyright 2018 The Lawrence Journal-World. All rights reserved. This material may not be published, broadcast, rewritten or redistributed. We strive to uphold our values for every story published.