Photo Gallery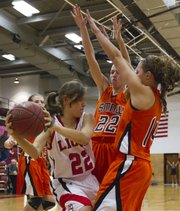 Lawrence High girls basketball vs. Shawnee Mission Northwest
Box score
SMNW (48)
Sydney Thompson 1-3 0-2 2, Katie Biggers 2-8 0-0 5, Jess Johnson 1-5 2-2 5, Sarah Schmidt 0-0 0-0 0, McKayla Ross 9-18 7-8 25, Amanda Hoelting 2-3 0-0 4, Tracy Monahan 1-2 0-0 2, Kristina Purinton 1-5 1-2 3, Brooklyn Wagler 1-1 0-0 2, Meghan McCluskey 0-1 0-0 0. Totals 18-46 10-14 48.
LHS (21)
Monica Howard 0-4 0-0 0, Marissa Pope 2-6 1-4 5, Krista Costa 2-4 0-0 4, Kionna Coleman 2-5 1-6 5, Christina Haswood 2-11 0-0 4, Anna Wright 0-2 0-0 0, Bri Anglin 0-1 0-0 0, Kylie Seaman 1-4 0-0 2, Emma Kelly 0-0 0-0 0, Bri Anderson 0-0 1-2 1. Totals 9-37 3-12 21.
SMNW 10 7 18 13 — 48
LHS 5 4 4 8 — 21
Three-point goals: SMNW 2-10 (Biggers, Johnson); LHS 0-5. Fouled out: None. Turnovers: SMNW 11, LHS 20.
It had been a little more than a month since Lawrence High's girls basketball team last won a game, and Tuesday night Shawnee Mission Northwest's McKayla Ross made sure that streak would remain intact.
The Cougars put LHS away, 48-21, with the help of Ross' 18-point second half, as the 5-foot-9 sophomore hit a variety of runners and layups, while mixing in some made free throws.
LHS (2-4) only trailed 17-9 at halftime. Coach Nick Wood said the Lions felt like they had missed some "great opportunities" to score in the first half, when they made just four of their 22 field-goal attempts.
Before the start of the third quarter, the coach said, Lawrence even talked about the first few minutes of the second half dictating the rest of the game. What followed, though, was an eight-minute stretch in which SMNW (6-1) took control by outscoring Lawrence 18-4.
Ross put up 14 of her team's third-quarter points and finished the game with 25 — four more points than the entire Lions roster.
"(Ross) just came out and just put it to us," Wood said.
After Ross made an effort to take over, the coach added, the rest of her teammates were set up to attack as well. By the end of the third, the Cougars held a 35-13 advantage.
"All of the sudden they spread it out on us, and we're playing catch-up at that point and the game was over," Wood said.
While Lawrence struggled to score throughout the game — freshman guard Marissa Pope and sophomore forward Kionna Coleman led LHS with five points apiece — its defense was better in the first half, when it held SMNW (ranked No. 10 in Class 6A by the Kansas Basketball Coaches Association) to 17 points.
Wood said the Lions' defense has to be its strong suit for an entire game.
"If we can't get stops, then it's gonna be hard for us to compete," he said.
LHS, which has lost four straight and hasn't won since a Dec. 6 home game against Junction City, is still learning how to get in its offense and get good shots. While the Lions are in the learning process, Wood said, playing strong team defense is a must.
"If we don't, like in the third quarter, then it's gonna be a long road for us," he said.
After losing 62-20 against Olathe Northwest in their previous game, Wood said the Lions at least looked better in some facets against SMNW. For example, they got off to a much better start. Buckets from Pope and senior Christina Haswood in the first couple of minutes put LHS ahead, 4-1. The Lions were only down 10-9 in the second quarter after Coleman scored in the paint and junior Krista Costa hit a jumper.
"We're right there," Wood said, "and then they (the Cougars) go on a little run and just kind of separated themselves."
Things fell apart, he said, on both ends of the floor.
"There were some positives, but negatives clearly outweighed them," Wood said.
At 7 p.m. Thursday, Lawrence plays at Olathe South.
Copyright 2018 The Lawrence Journal-World. All rights reserved. This material may not be published, broadcast, rewritten or redistributed. We strive to uphold our values for every story published.