Photo Gallery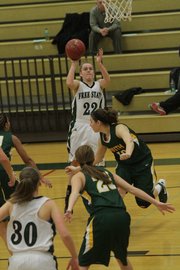 Free State girls basketball vs. Shawnee Mission South
Box score
Shawnee Mission South (52)
Emmy Allen 6-14 7-8 19, Sierra Roberts, 3-11 2-2 10, Sam Bendrick 3-5 4-5 10, Allison Hines 2-10 2-2 7, Hayden Roberts 2-4 0-0 4, Amanda Schwabaur 1-2 0-0 2, Taylor McDowell 0-9 0-0 0. Shawnee Mission South – 17-45 15-17 52.
Free State (47)
Kennedy Kirkpatrick 7-23 2-2 20, Chelsea Casady 3-9 4-6 10, Lynn Robinson 2-7 0-0 5, Scout Wiebe 2-5 0-0 4, Jackie Garcia 0-1 0-0 0, A'Liyah Rogers 2-2 0-0 4, Abbey Casady 2-4 0-0 4. FSHS – 18-51 6-8 47.
Free State 8 12 10 17—47
SM South 14 20 9 9—52
Three Points: Free State – Kirkpatrick 4-11, Robinson 1-5, C. Casady 03-5; Shawnee Mission South – S. Roberts 2-9, Hines 1-5, McDowell 0-6. Shooting Percentage: Free State – 35; Shawnee Mission South – 38.
The Free State High girls basketball team has been together long enough for everyone to know when a surge is mounting.
So, after receiving three quarters of pummeling at the hands of Shawnee Mission South, FSHS led an inspired rally to have an opportunity to take the lead with 30 seconds to go.
But it was all for naught as the Firebirds (5-2) fell short at home, 52-47.
"It's kind of heartbreaking," FSHS junior Abbey Casady said. "It's almost worst to lose by that little than to lose by a lot."
From the onset, the Raiders negated the small-ball style of the Firebirds by immediately stopping the ball and forcing contested shots. SMS (5-2) showed that it was the bigger and more physical team by wiping up boards and scoring over smaller defenders. Coach Bryan Duncan said the SMS offense could do whatever it wanted in the first three quarters.
The height was a challenge that FSHS had difficulty preparing for.
"We can't simulate that in practice because we don't have anyone in our program over 5-10," Duncan said.
The tallest girl on the court, SMS's 6-foot-2 Emmy Allen, was guarded by 5-9 Casady from the Firebirds. It was a difficult match-up as Allen scored 19 points and could physically do anything she wanted.
"She's elbow-length to my face, so I got elbowed at least five times," Casady said.
The Firebirds trailed by as many 19 in the second half. But in that fourth quarter, the Firedbirds started to get offensive rebounds, and the Raiders started missing shots. Junior Kennedy Kirkpatrick hit a three with 1:28 to go, and all of a sudden it was a 48-41 game. FSHS rolled off eight straight points because of consecutive SMS turnovers and an intentional foul called on the Raiders.
Kirkpatrick missed the go-ahead layup with less than 20 seconds to go, and the Raiders would sink their free throws to seal the victory.
Though pleased with the spirit of his team in the final minutes, Duncan said the Firebirds wouldn't be in that position if they had started the game off with more energy.
"We're not at a point in our program where we can go dead for three quarters and try to come alive in the fourth quarter," he said.
FSHS will play Olathe Northwest at 5:30 p.m. Friday.
Copyright 2018 The Lawrence Journal-World. All rights reserved. This material may not be published, broadcast, rewritten or redistributed. We strive to uphold our values for every story published.