Photo Gallery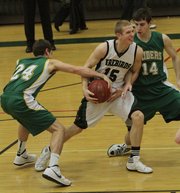 Free State boys basketball vs. Shawnee Mission South
Box score
Shawnee Mission South (60)
Josh Pederson 6-8 6-6 20, Dylan Christie 5-6 4-4 17, Dainan Swoope 2-3 5-6 9, Eric Weber 1-6 3-5 6, Devin Newsome 1-4 4-9 6, Colson Bayles 1-1 0-1 2, Jake Caldwell 1-1 0-0 2. Shawnee Mission South – 17-25 22-30 60.
Free State (53)
Cameron Dabney 4-8 4-5 12, Brett Frantz 4-9 5-8 15, Cole Moreano 4-7 0-0 11, Tyler Self 0-5 2-2 2, Reshawn Caro 1-1 0-0 3, Blake Winslow 0-1 2-4 2, Shawn Knighton 0-1 0-2 0, Gabe Patterson 3-5 0-0, Kyle McFarland 1-2 0-0 2, Logan Bannister 0-1 0-0 0. FSHS – 16-40 13-21 53.
FSHS 5 8 14 26—53
SM South 14 13 13 20—60
Three Points: FSHS – Moreano 3-6, Frantz 2-5, Caro 1-1, Moreano 1-4; Shawnee Mission South – Pederson 2-3, Weber 1-2, Christie 1-1. Turnovers: FSHS – 13; Shawnee Mission South – 10. Shooting Percentage: Free State – 40; Shawnee Mission South – 68.
The Free State High boys came out flat against Shawnee Mission South and couldn't compensate despite a good fourth quarter.
The Firebirds closed the gap in the final minutes, but were upended, 60-53 against the Raiders.
"Credit to our guys for not rolling over and making it interesting down the stretch," coach Chuck Law said. "We have to do a better job of playing with a sense of urgency from the opening tip."
FSHS (2-6) hit its first two shots to start the game, then went stone cold the rest of the quarter. SMS (6-1), meanwhile, was scoring in all sorts of ways: finesse post moves, long three-pointers, transition buckets and even a dunk.
And most of that was from the front court.
"Their big guys are skilled," Law said. "That's the thing."
The same post players who could rebound and block shots for the Raiders could also shoot threes and make most of their free throws. As the game went on, those players became less effective and the Firebirds took advantage.
FSHS was down 20 with four minutes left in the third quarter. Law said his team then began executing very well on both sides of the ball. Sophomore Reshawn Caro hit a three with 2:41 left, bringing the game to 50-42, which was the closest the Firebirds got, aside from the final shot of the game.
Senior Brett Frantz led the team with 15 points and senior Cameron Dabney had 12. The only other Firebird in double figures was sophomore Cole Moreano, who had 11.
At times, the Firebirds looked like a team capable of surprising opponents, but senior Tyler Self said all of the losing is frustrating.
Law said that given the start of the game, there were more positives to look at than negatives. He also said he is also trying to find the five-player combinations that work the best — an area in which the coach thought he made strides Tuesday night.
The pieces for being a solid team are there, scattered. For the Firebirds, the next step is assembling those pieces into a cohesive, more consistent squad.
"We've just got to put together a full game," Self said. "Get rid of all the small lapses we have, whether it's a couple minutes or couple possessions. When we do that, that's when we can start coming."
Copyright 2018 The Lawrence Journal-World. All rights reserved. This material may not be published, broadcast, rewritten or redistributed. We strive to uphold our values for every story published.