Photo Gallery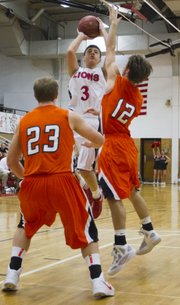 Lawrence High boys basketball vs. Shawnee Mission Northwest
Box score
Lawrence boys 44, Shawnee Mission Northwest 24
SMNW (24)
Blake Evans 1-5 0-0 2, Luke Fields 2-6 1-2 5, Chase Rader 1-2 0-0 2, Jackson Foth 0-6 0-0 0, Bill Graves 1-2 2-4 4, Marcus McNeace 0-2 2-6 2, Jake Horner 1-1 0-1 2, Logan Unrein 0-0 2-2 2, Lovell Jones 1-2 0-0 2, Marcus Colins 0-0 2-2 2. Totals 7-26 9-17 24.
LHS (44)
Jake Mosiman 4-10 0-1 10, Shane Willoughby 2-3 0-0 4, Anthony Buffalomeat 3-9 1-1 7, Logan Henrichs 2-6 2-4 7, Bryce Montes de Oca 4-5 2-2 10, KJ Pritchard 0-1 2-2 2, Troy Willoughby 1-1 1-3 3, Tyrone Jenkins 0-1 0-0 0, Logan Smith 0-1 1-2 1. Totals 16-37 9-15 44.
SMNW 9 3 4 8 — 24
LHS 8 14 11 11 — 44
Three-point goals: SMNW 1-6 (Evans); LHS 3-8 (Mosiman 2, Henrichs). Fouled out: None. Turnovers: SMNW 11, LHS 5.
If the boys basketball teams at Lawrence High and Shawnee Mission Northwest were having a turn-back-the-clock night Tuesday at LHS, they forgot to promote it.
But the game definitely had an old-fashioned feel as the Lions slowly worked their way to a 44-24 victory.
With the exception of an occasional steal-and-layup sequence, both teams displayed methodical half-court offenses. Lions coach Mike Lewis said that wasn't necessarily the plan coming in — at least on the LHS side.
Lewis said Lawrence's defense had something to do with the Cougars' lack of offense — SMNW took just 26 shots and made only seven field goals (27 percent) — but it was also Northwest's reliance on extra passes that ate up so much clock on many of the visiting team's possessions.
"It just worked out that it slowed down a little bit," Lewis said of the game.
By amping up their defensive pressure at times, the Lions (5-3) were able to get some easy baskets in the open floor and give the game a more modern feel.
One of the more exciting sequences of the night came in the second quarter, when Lawrence held SMNW (2-6) to three points while scoring 14. LHS senior guard KJ Pritchard stole the ball and pitched it ahead to senior Anthony Buffalomeat, who then found senior Logan Henrichs for a key layup during an 11-2 Lawrence run.
"It worked out in our favor," Lewis said of the game's style.
Despite the pace, the Lions eventually got out to a 20-point lead in the fourth quarter on a three-pointer by junior Jake Mosiman. More than anything, the LHS defense deserved the credit for the scoring difference. Lawrence gave up just one field goal apiece in the second, third and fourth quarters — Cougars Chase Rader, Jake Horner and Lovell Jones were the only SMNW players to make a basket in the final 24 minutes.
LHS sophomore center Bryce Montes de Oca, at 6-foot-7, joked it was easier than usual for him to get up and down the floor in the game. He finished with 10 points — tying Mosiman for the team lead — and grabbed five rebounds for the Lions. The LHS pivot said he actually thinks games go better for Lawrence when the Lions speed things up.
Still, the big man was glad to see his team adjust.
"It was a slow-paced game, and we played good defense," Montes de Oca said.
Mosiman agreed and said the Lions didn't mind the slow-moving flow. But they were pretty surprised to look up after the final buzzer and see their opponent with less than 25 points.
The junior guard said LHS, which was coming off back-to-back losses, was looking forward to getting back on track.
"We were just ready to play. We were sick of losing after those two games (against Olathe Northwest and Kansas City, Mo., Rockhurst)," he said. "We just really wanted to win."
Lewis wasn't too disappointed about the game's lethargic pace, either.
"I was happy with our defense," the coach said. "Anytime you can hold your opponent to whatever it was (24 points), you've got to feel good about that."
The LHS offense, which shot 16-for-37 from the floor (43 percent), Lewis added, didn't have a bad night.
"We shared the ball pretty well, and I thought our composure was pretty good, too," he said.
The Lions came out with a different starting lineup against SMNW, as Lewis brought Pritchard off the bench. Shane Willoughy joined Henrichs, Buffalomeat, Mosiman and Montes de Oca in the starting lineup.
Lewis didn't give a reason for the change after Pritchard took just one shot and made two free throws to go with three assists.
"We mixed it up tonight," Lewis said. "Friday, we might mix it up again. We'll see how it goes."
At 7 p.m. Friday, Lawrence plays at Olathe South.
— Check out Benton Smith's "Prep Appraisals" from Tuesday's game.
Copyright 2018 The Lawrence Journal-World. All rights reserved. This material may not be published, broadcast, rewritten or redistributed. We strive to uphold our values for every story published.