Box score
Olathe East 58, Free State 45
FSHS (45)
Kennedy Kirkpatrick 6-11 4-4 19, Chelsea Casady 3-10 7-8 14, Lynn Robinson 0-3 5-6 5, Scout Wiebe 2-5 0-0 4, Jackie Garcia 0-4 0-0 0, A'Liyah Rogers 1-2 0-0 2, Abbey Casady 0-2 0-0 0, Summer Frantz 0-0 1-2 1. FSHS – 12-37 17-20 45.
OE (58)
Regan Stone 2-4 2-4 6, Justice Daniel 1-5 1-2 3, Kylie Gafford 5-7 4-5 14, D'Shawna Lee 4-6 5-5 15, Alyssa Palmer 4-7 1-1 10, Haley Hanson 4-5 0-0 10, Lyndsey Lyman 0-1 0-0 0. Olathe East – 20-35 13-17 58.
FSHS 12 1 14 18—45
Olathe East 9 8 19 22—58
Three Points: FSHS – Kirkpatrick 3-4, C. Casady 1-5; Olathe East – Hanson 2-2, Palmer 1-3. Turnovers: FSHS – 13; Olathe East – 11. Shooting Percentage: Free State – 32; Olathe East – 57.
Photo Gallery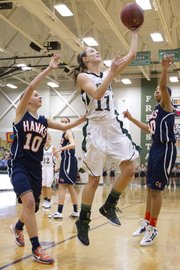 Free State girls basketball vs. Olathe East
Junior Chelsea Casady went into Friday's game hyped about the opportunity of staying unbeaten and doing it against a very good Olathe East opponent.
The game ended up being the toughest challenge Free State High has faced this season, and the girls fell at home, 58-45.
The undefeated streak is over, so the Firebirds can focus on something a little more basic without the target.
"After this, I think our mindset is, 'Get more wins,'" Casady said.
The Firebirds (5-1) knew they were going to lose at some point, but they hadn't been tested. FSHS was ranked No. 4 in the 6A Kansas Basketball Coaches Association rankings coming into the game, while O-East was No. 9.
FSHS coach Bryan Duncan, who knows that he still has a very good basketball team, said the Hawks kept the pressure on the Firebirds throughout the game.
"I think the biggest difference was that they were able to get the four- or five-point lead and dictate the tempo and the style," he said.
After leading by three after the first quarter, FSHS's offense stalled in the second quarter, scoring just one point. O-East took the lead and kept pushing it. The Firebirds missed several open shots that they usually make, adding to the problems the Hawks caused defensively.
FSHS is a small team that likes to push, but their advances against O-East went nowhere. Then the Hawks' size took over and O-East had a 16-1 run in the fourth just after the Firebirds cut the deficit to five.
The top three players for FSHS had their issues. Junior Kennedy Kirkpatrick had 19 points, but by the time she got going, the game was out of reach. Casady had 14, but half of those points came from the free-throw line. And senior Lynn Robinson had five points, all coming without a field goal.
"They definitely knew coming in what our players were like," Casady said.
Having now played one of the best teams in the conference, the Firebirds know how they compare and what they need to improve upon.
When FSHS plays host to Shawnee Mission South at 5:30 p.m. Tuesday, Duncan said the team will have progressed.
"We handled ourselves well," he said about Friday's game. "I have no doubt that we will be ready to bounce back, and we'll have a lot of success Tuesday."
Copyright 2018 The Lawrence Journal-World. All rights reserved. This material may not be published, broadcast, rewritten or redistributed. We strive to uphold our values for every story published.