Box score
Olathe Northwest 62, Lawrence 20
ONW (62)
Ashlyn Landherr 1-4 0-2 2, Kelsey Brooks 5-8 1-3 12, Vashti Neal 3-7 0-0 9, Jaylah Jackson 4-13 0-0 8, Michaela Crall 3-4 5-7 11, Lindsey Poulter 2-2 1-2 5, Hannah Kovarik 1-2 0-0 2, Shaleia Jamison 3-6 1-3 8, Shea Shipman 1-5 0-0 3, Allison Olson 0-1 2-6 2. Totals 23-52 10-23 62.
LHS (20)
Monica Howard 4-7 0-3 8, Emma Kelly 1-4 0-0 2, Marissa Pope 0-1 0-2 0, Krista Costa 0-4 0-0 0, Kionna Coleman 1-7 0-0 2, Kylie Seaman 1-2 0-0 2, Bri Anderson 1-2 0-0 2, Anna Wright 0-1 0-0 0, Mutiyat Hameed 1-3 0-0 2, Bri Anglin 0-0 2-2 2. Totals 9-31 2-7 20.
ONW 13 25 17 7 — 62
LHS 2 4 2 12 — 20
Three-point goals: ONW 6-15 (Neal 3, Jamison, Brooks, Shipman); LHS 0-4. Fouled out: None. Turnovers: ONW 11, LHS 28.
Photo Gallery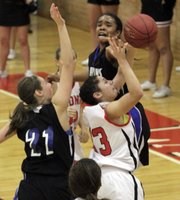 Lawrence High girls basketball vs. Olathe Northwest
Lawrence High's girls basketball team was well aware of the challenge that awaited them at home Friday night.
The Lions had talked about facing Olathe Northwest, ranked No. 1 in Class 6A by the Kansas Basketball Coaches Association, and what that meant.
As LHS coach Nick Wood told them: "This should be a game that we're excited to play."
However, after ONW dominated, picking up an easy 62-20 victory, Wood said Lawrence failed to bring a competitive approach.
"We knew this was going to be a great measuring stick of where we're at," Wood said. "We found out (Friday) that we were nowhere near where we need to be."
The Lions (2-3) never led as the Ravens' steadily dictated the outcome of the game. ONW (5-0) was up 13-2 after the first quarter. LHS junior Monica Howard's jumper at the 4:45 mark provided the team's only points.
Howard, who finished with eight points and five rebounds, made another jump shot in the opening minute of the second quarter before another Lawrence drought hit. The Ravens went on a 19-0 run before Lions junior Emma Kelly knocked down a jumper with less than two minutes to go before halftime.
Down 38-6 at the break, Lawrence couldn't get anything to fall in the third quarter until junior Bri Anderson scored with 12 seconds left. At that point, Northwest led 55-8.
Those devastating chunks of game without field goals, Wood said, were the direct result of LHS guards not being active, and LHS bigs not flashing to the middle.
"Offensively we had no movement whatsoever," the coach said. "It was hard to run offense when you've got five girls just standing in one spot."
Wood was frustrated by Lawrence's inability to handle defensive pressure on a night it turned the ball over 28 times. In the meantime, the Lions' defense, he said, allowed ONW to do as it pleased.
"We've got a ton of things to work on, and it starts with effort and competing," Wood said.
At least in the fourth quarter LHS showed a little more productivity.
Howard scored on an offensive rebound, Bri Anglin made a pair of free throws, Kionna Coleman scored in the lane, Mutiyat Hameed converted a bucket after securing an offensive rebound, Kylie Seaman scored down low and Howard made the final basket of the night as Lawrence outscored the Ravens, 12-7, in the final eight minutes.
Wood said the Lions must compete for four quarters in the future if they want to have a chance to get back in the win column.
"That's something you can always control," he said. "We've got to find a way to get better at that."
At 5:30 p.m. Tuesday, Lawrence plays host to Shawnee Mission Northwest.
Copyright 2017 The Lawrence Journal-World. All rights reserved. This material may not be published, broadcast, rewritten or redistributed. We strive to uphold our values for every story published.