A pair of new additions made an immediate impact for Free State High's boys swimming team Thursday.
With the help of junior Ben Sloan and sophomore Canaan Campbell, who made their season debuts at the Lawrence Indoor Aquatic Center, the Firebirds took first place and held off rival and runner-up Lawrence at their home meet.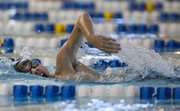 Free State coach Annette McDonald said the two swimmers — who both compete on club teams year-round — had attended previous meets to support their fellow Firebirds before helping FSHS out even more with their first-place finishes.
"What's nice about it is they just got in there and became part of the team," the coach said.
Campbell took first place in the 200-yard freestyle and 500 freestyle, while Sloan won the 200 medley and 100 butterfly events. They both were a part of Free State's winning 400 freestyle relay team with Connor Munk and Hunter Robinson. And the trio of Munk, Campbell and Sloan swam to a first-place finish with Kyle Yoder in the 200 medley relay.
McDonald said the Firebirds' 400 freestyle relay team already had a state consideration time before Campbell and Sloan came on board.
"These two guys helped push it way over the edge," she said of the team's 3:29.25 finish.
Campbell complimented the rest of his team on a day that many Firebirds swam to new personal bests.
"We improved a lot over break, and I think that really showed at this meet," he said.
Sloan said the home meet marked a great start to Free State's post-winter break schedule.
"We came into the meet wanting to win and obviously we accomplished that," he said.
With the new guys helping Free State take first place in eight events (Munk won the 100 backstroke and Dan Krieger was the top performer in 1-meter diving), the Firebirds scored 597 team points — 77 more than LHS, which had finished ahead of FSHS at two previous meets.
The Lions, coach Kent McDonald said, had discussed Free State's newcomers before the meet. They knew it wouldn't be easy to duplicate their recent success against Free State, even with senior Zach Andregg making a habit of setting school records.
"They've got essentially two, maybe three Zachs," the LHS coach said of the Firebirds.
Andregg broke his own LHS record in the 100 freestyle, with a first-place time of 47.72. Victorious in the 50 freestyle as well, Andregg also swam with Adam Edmonds, Nathan Evers and Dylan Orth on Lawrence's winning 200 freestyle relay team.
And he did all of that with a broken bone in his right hand.
The Lions' senior standout said he injured the hand about four weeks ago. He wears a brace on it when he isn't swimming. But Andregg has refused to let the injury hold him back.
"I just don't think about it at all," he said.
In fact, he was disappointed that he didn't set a new record in the 50 freestyle. He missed it by roughly three-tenths of a second.
"I'll get that some other time," he said.
Still, Andregg wasn't the only Lion to make strides at the meet. Edmonds, a junior, dropped his times in the 50 freestyle (third place), while Reid Hildenbrand's times in the 500 freestyle (third) and 200 freestyle (second) lowered and Joshua Shump got closer to a state consideration time in the 100 backstroke (second).
Kent McDonald noted the real difference in the meet came with Free State's divers, as Krieger, Trevor Hillis and Austin Neidow secured first through third in 1-meter diving.
"Other than that, I thought we were competitive," the coach said.
Annette McDonald, meanwhile, praised a couple FSHS swimmers for improving their times and contributing to the team points title. Yoder improved his 100 breaststroke time by about two seconds and took second place. Munk, who finished behind only Andregg in the 100 freestyle, shaved nearly two seconds off his previous best time.
"All the swims were good," Free State's coach said. "Even the guys who scored later. It's not just the top guys that win the race, it's everybody else."
Next up for the Firebirds and Lions is a Saturday trip to the Shawnee Mission Northwest Invitational.
Copyright 2018 The Lawrence Journal-World. All rights reserved. This material may not be published, broadcast, rewritten or redistributed. We strive to uphold our values for every story published.