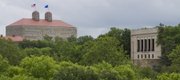 Subscribe to the email edition of Heard on the Hill and we'll deliver you the latest KU news and notes every weekday at noon.
Your daily dose of news, notes and links from around Kansas University.
• Those anti-"Woo" people are back and at it again.
I first wrote about this particular issue a little more than a year ago. It's all about the Rock Chalk Chant, apparently. I've listened for this since I first wrote about it, and I'm pretty sure I know what these folks are talking about.
At the end of glorious, victorious basketball games, these folks would like to hear a slow, steady, eerie, "Roocccck Chaaaaaaaaaaaalk, Jaaaayhawwwwwwwwk, K-UUUUUUUUUUU," one right after the other.
Today, there's a group of people — mainly students, it seems — who add a nice, rousing "WOOOOOOO!" to the end of it. The anti-Wooers feel this ruins the overall effect.
What's interesting to me, is that a Facebook group of about 275 people is trying to motivate folks to take action against the "Woo." And they seem to have made some inroads. According to wall posts on the group's publicly available page, some of its members brought a sign to the North Dakota game reading "There is no 'WOO' in the Rock Chalk Chant.'"
Another person emailed the leader of the spirit squad, after noticing the Rock Chalk Dancers were apparently shaking their pompoms during "WOO" time. The person posted that he got a response back indicating the pom-shaking would stop, and the spirit squad would undertake no further efforts to encourage woos.
They've written letters to the editor, suggested bake sales to raise money for shirts (perhaps a joke?) and chastised Big Jay for encouraging the woo.
"Definitely grounds for impeachment," one member of the group wrote in a comment.
I think much of this is meant in fun (I haven't noticed any proceedings beginning to impeach Big Jay), but a good part is serious, too. When I was at KU as a student, I don't remember a woo, and rather enjoyed the solemn-sounding chant at the end of games.
But I'm also sensitive to the other side of the argument. Though I've never heard from an actual wooer, I imagine people woo because it's fun to woo, especially when you've just won the game. And if you can't have fun at a KU basketball game, where can you have fun?
• One post I particularly enjoyed from the anti-wooers linked to this rather offbeat video featuring KUMC leader Barbara Atkinson's Rock Chalking parrot, Buddy.
I'd seen it a few other places, too, and it's probably best experienced without any additional comment from my end.
Except to point out, as the Facebook group did, that Buddy definitely doesn't woo.
• Becky Sullivan, a recent KU graduate and former disc jockey, archivist, production director and station manager at the student radio station KJHK, was able to parlay a recent internship at National Public Radio into two news stories for the program "All Things Considered."
One story is on the iPhone photo app called Instagram. And the other was a collaborative piece she contributed to on "Music We Missed in 2011."
Sullivan was also an intern at KANU/Kansas Public Radio.
• Submit (WOO!) tips (WOO!) for (WOO!) Heard on the Hill (WOO!) to (WOO!) ahyland@ljworld.com. WOO! WOO!
Copyright 2018 The Lawrence Journal-World. All rights reserved. This material may not be published, broadcast, rewritten or redistributed. We strive to uphold our values for every story published.