Photo Gallery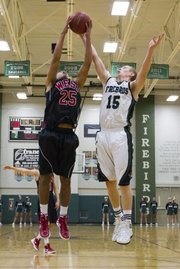 Free State boys basketball vs. Blue Valley West
Box score
BVW 12 10 18 21 — 61
FSHS 6 10 10 23 — 49
BVW (61)
Colin Wiles 1-5 7-10 9, Tripp Roy 3-6 2-2 11, Ryan Ralston 3-5 1-2 9, Conley Wilkins 5-10 6-7 16, Joey Lillis 3-10 2-2 8, Brett McMakin 1-2 4-8 6, Chris Birzer 1-1 0-0 2. Totals 17-39 22-31 61.
FSHS (49)
Brett Frantz 4-11 2-2 11, Tyler Self 0-1 2-3 2, Reshawn Caro 1-3 0-2 2, Kyle McFarland 2-8 5-6 10, Logan Bannister 0-0 0-0 0, Blake Winslow 2-3 0-0 4, Cole Moreano 1-4 0-0 3, Joe Dineen 0-1 4-4 4, Cameron Dabney 1-7 9-11 11, Shawn Knighton 1-2 0-1 2. Totals 12-40 22-29 49.
Three-point goals: BVW 5-11 (Roy 3, Ralston 2); FSHS 3-13 (Frantz, McFarland). Fouled out: BVW (Birzer); FSHS (McFarland, Dineen). Turnovers: BVW 17, FSHS 17.
The winter break didn't help Free State High's boys basketball team shake a recurring problem.
As has been the case in other losses this season, the Firebirds played up to coach Chuck Law's standards for parts of Tuesday night's home game against Blue Valley West. However, lapses cost FSHS in a 61-49 setback that extended its losing streak to four games.
Playing for the first time since Dec. 16, Free State (2-4) kept within striking distance of the Jaguars (6-0) until about midway through the third quarter. With a 9-2 run highlighted by a steal and one-handed jam by BVW senior forward Brett McMakin, the visitors took control.
While that stretch gave the Jaguars separation, Law lamented his team's inability to do more damage earlier in the game. Free State was dismal in the first quarter, hitting just one of its 11 field-goal attempts and shot 5-for-22 in the first half — senior guard Brett Frantz hit three of those shots, while junior Kyle McFarland and senior Cameron Dabney accounted for the other two baskets.
The Firebirds finished the game shooting 12-for-40 from the floor (30 percent). Law said some of that was West's stellar man-to-man defense and some of it was Free State missing shots it usually makes.
"Everybody tends to focus on what happens in the last few minutes of the game or whatever," Law said. "We had plenty of opportunities in the first half to either have that thing tied or maybe even have a lead in the first half."
Instead, FSHS trailed 22-16 at the break. McFarland, who scored 10 points, said it was not the pace the Firebirds prefer to play.
"They were just running their offense, doing what they like to do — kind of slowing it down," the junior forward said. "And we like to get up and down the court, so they kind of controlled the game."
McFarland, Frantz (11 points) and Dabney (11 points off the bench) all scored in double figures, and Law thought Free State played well for roughly 24 minutes in the game, but the coach said BVW exploited the Firebirds at other times.
"They're a team that you have to do everything right against," Law said. "When you let your guard down, they're gonna do what they do exceptionally well."
Blue Valley West entered the fourth quarter with a 40-26 lead, and Free State chipped away at its deficit by drawing fouls, stopping the clock and getting to the foul line.
McFarland said the Firebirds were doing anything they could to try and mount a comeback instead of focusing on the negative.
"The only thing we could do was make it closer," he said.
By connecting on 16 of its first 18 free throws in the fourth, FSHS didn't allow BVW to extend its lead further, but it ultimately didn't make a difference in the loss as the Firebirds also committed a number of fouls late while going for steals in the final minutes. The teams combined to shoot 44 free throws in the last eight minutes.
By the time Firebirds sophomore Cole Moreano hit a three-pointer and fellow soph Reshawn Caro scored on an offensive rebound, Free State cut the deficit to 58-49. But there were only 49 seconds left in the game at that point.
Law said comebacks are hard to come by against the Jaguars.
"They're a team you absolutely can't play from behind against," the coach said.
Neither Dabney nor Shawn Knighton started the game for Free State. Law said they were held out — Dabney entered the game in the second quarter, Knighton in the third — because of missing practices during the break.
At 7 p.m. Friday, FSHS plays host to Olathe East for its Sunflower League opener.
Copyright 2018 The Lawrence Journal-World. All rights reserved. This material may not be published, broadcast, rewritten or redistributed. We strive to uphold our values for every story published.