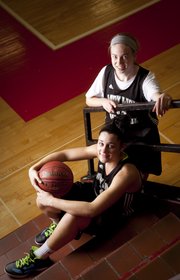 Before Lawrence High's girls basketball season began, it was a bit unknown exactly how the squad would come together.
As LHS (2-2) prepares during its winter break for the schedule to resume, it is hard to imagine where the Lions would be without junior Monica Howard and sophomore Kionna Coleman, who transferred in as new pieces to the team's puzzle this season and fit in perfectly.
Howard, who is averaging eight points and seven rebounds, joined LHS from Baldwin. Coleman, averaging seven points and seven boards, came over from crosstown rival Free State a couple of weeks before the start of preseason practices.
Lawrence coach Nick Wood said the transfers and established players in the program worked to make the transition seamless.
"It couldn't have gone much better," Wood said of the new players' acclimation to the squad.
Wood admitted he didn't initially know how the transfers would mix in. However, both Coleman and Howard were able to impact the program immediately, he said, because the returning players welcomed them — which probably had a lot to do with the newbies, as Wood described it, working "their butts off to earn their spot."
The duo's work ethic, great personalities and ability to get along with their teammates, Wood said, made his job easy. He didn't have to coach anybody on building new relationships with Coleman and Howard as they meshed with teammates Christina Haswood, Emma Kelly, Krista Costa, Bri Anderson, Kylie Seaman, Marissa Pope and others.
"If you would've walked in our first day of practice," he said, "you wouldn't have known those two girls had come in not knowing anybody else."
For Howard, coming to LHS from a smaller, Class 4A school was different. With far more students, she wasn't seeing everyone in the hall each day like she used to. She said playing volleyball and basketball helped her transition, even though she had to "start over" at Lawrence.
"Just being on a team helped me make friends easier," the 6-foot-1 junior said.
From a basketball standpoint, Howard said the adjustments came in learning new drills with the Lions and discovering how each player worked as a member of the unit.
Coleman experienced the same things. She said getting used to her LHS teammates, how they played and their personalities was a big part of her transition. Plus, there was the matter of her former school.
"I wasn't sure if they were going to accept me or not since I was from Free State," she said with a laugh.
It actually worked out just fine. Wood said Coleman played her best game so far in the most intense atmosphere, when the Lions played at FSHS and the student section greeted her with chants of "traitor."
"If she can handle that environment," Wood said, "then she can handle anything we play in the rest of the way."
As for Howard, Wood said as she gets stronger, she will be even more effective for the Lions.
"I feel like she's adjusted to 6A basketball really well, and I feel like she'll continue to grow and get better at it," he said.
Both Howard and Coleman said they really felt like members of the team by the end of the season opener, a road win at Kansas City Wyandotte, because they had contributed to an LHS victory.
And both are proud to be key pieces of their new team.
Said Coleman: "I'm ecstatic."
Added Howard: "I'm very happy. We have a great team, and everyone gets along really well."
Lawrence returns to the court at 5:30 Friday evening, when it hosts Olathe Northwest.
Copyright 2018 The Lawrence Journal-World. All rights reserved. This material may not be published, broadcast, rewritten or redistributed. We strive to uphold our values for every story published.