Wichita — The stage was nothing new to Reece Wright-Conklin.
The 182-pound Lawrence High senior entered his Class 6A state wrestling tournament championship match Saturday night at Hartman Arena with two state titles on his ever-growing resume.
With a steely intensity in his eyes, he took a knee, bowed his head and then popped up and slapped his tree-trunk-thick legs.
Within minutes, a dominating high school career came to an appropriate ending as Wright-Conklin stuck Manhattan's Trey Campbell for a pin and a third consecutive state title.
After the official pounded the mat, signifying the championship, Wright-Conklin bounced to his feet and shot three fingers in the air. That was the extent of the celebration. With his experience, going crazy wasn't the natural reaction.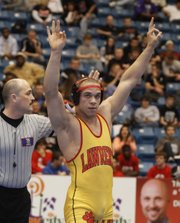 "I'm not one to celebrate too hard," he said. "I did that my sophomore year, with my first one."
But it did mean a lot to Wright-Conklin — who followed junior Hunter Haralson's 126-pound championship and helped the Lions finish third in the team standings — to win another title with LHS assistant coach Randy Streeter guiding him. The Lawrence assistant has helped mold the state champ since Wright-Conklin was a drastically smaller 3-year-old. The state championships meant the world to Streeter, too, who was celebrating his birthday.
Clearly a perfectionist, Wright-Conklin had only one regret after scoring four pinfall victories at state.
"I almost got every match with a pin in the first period," he said with a smile, "but the last one, I got him in the second."
A Lawrence junior, Haralson gave the team its first individual state championship of the evening. The scrappy 126-pounder scored two points in the final seconds of the first period, and that proved to be enough for a 2-1 victory and a state title against Gardner-Edgerton's TJ Stokes, who entered the tourney as the No. 1-ranked wrestler in his class.
Even Haralson, who came in ranked No. 3 in 6A, couldn't believe it worked out that way. Upon completing his 39-6 junior season on top, he admitted he was vulnerable in the third period and thought Stokes might be able to score in the final seconds to win.
"I really had to fight at the end there," Haralson said, smiling with a split lip and tears of joy still in his eyes.
Upon having his arm raised as a state champion for the first time, Haralson raced to the side of the mat to celebrate with Streeter, who lifted the happy champion off the ground.
"It's the greatest feeling," Haralson said. "No one in the world can understand how great that feeling is."
A different brand of emotions overcame LHS senior 220-pounder Brad Wilson after his championship match. Wilson immediately ran off the floor while fighting back tears after losing to Leavenworth's Nathan Butler for the third weekend in a row.
After taking a few minutes to reflect on his accomplishments in the arena tunnel, Wilson, who qualified for state as a junior but didn't medal, said his second-place finish and 38-7 season weren't anything to complain about.
"Two years ago I wasn't placing at any of these tournaments," Wilson said.
Although Lawrence didn't have enough to catch 6A state champion Manhattan or runner-up Wichita Heights, the final-round performances of Lawrence's top three state finishers helped the Lions overcome Derby, which led LHS by one point entering the finals, and earn a third-place trophy.
"We knew it was gonna take a couple of our guys winning championships to seal the deal," Lions head coach Pat Naughton said.
Finishing with seven state medalists — a program high — helped that cause, too.
Free State junior 182-pounder Spencer Wilson, the only Firebird to win a medal at state, wasn't ecstatic about his weekend, even though he posted a 5-1 record and took third place. Spencer, who entered the tourney as the No. 2-ranked 182-pounder in 6A, hadn't planned on wrestling so many matches. His goal was to win his first three bouts and earn a spot in the finals, preferably against Wright-Conklin.
A second-round setback against Manhattan's Campbell, however, put a major snag in those plans. Spencer bounced back with four straight wins in the consolation bracket, capping it with a pinfall victory in the third round of the consolation finals against Wichita Heights' Jon Wilcoxson.
Still, Spencer couldn't help but feel "a little bummed" about being knocked out of state-title contention.
"I was too focused on the finals match," he said.
The Firebirds' top grappler had defeated Campbell earlier in the season, adding to his frustration.
"You always want to do better than you did," Spencer said.
Just a freshman, Lawrence 106-pounder Tristan Star had a successful state debut. The spry, wiry youngster earned a fourth-place medal and went 3-2 on the weekend.
The biggest negative of his state experience was how it ended. Vying for third place in the consolation finals, Star injured his right elbow in the first period against Derby's Cody McDonald. The LHS freshman grimaced in pain but insisted on finishing the match. Still feeling the effects of the injury after losing just 3-2, Star was consoled by Lions coaches afterward and had to be examined by athletic trainers.
The Lions' Caden Lynch (132) went 3-2 at state and earned a top-five finish. After suffering consecutive losses (one Friday, one Saturday), the LHS junior ended on a high note in the fifth-place match. Lynch was nearly pinned by Wichita South's Caleb Warden in the second round and trailed 7-6 entering the third period. However, with 40 seconds to go in the match, Lynch pinned Warden's shoulders to the mat for the victory.
LHS senior Nick Pursel had to settle for sixth place and a 2-3 record, but his last two losses came by injury default after his left shoulder popped out of place in the consolation semifinals. Pursel had problems with the shoulder all season, and once it worsened, the senior was unable to finish his first match Saturday or compete in the fifth-place bout.
Lawrence sophomore Garrett Girard also took sixth place at state. The 113-pounder won his first two matches of the tournament before losing three straight.
Free State senior Andrew McLees (132) and his junior teammate Ben Soukup (152) were knocked out of the consolation bracket and medal contention Saturday morning.
Copyright 2018 The Lawrence Journal-World. All rights reserved. This material may not be published, broadcast, rewritten or redistributed. We strive to uphold our values for every story published.