When it comes to bowling, Lawrence High senior Riley Gentry operates best by distracting himself from the task at hand.
Photo Gallery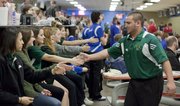 Lawrence High and Free State regionals bowling
During a Class 6A regional tournament Friday at Royal Crest Lanes, in between frames, Gentry's mind wandered to math and chemistry. Those subjects became the topic of conversation for him and Lions coach Paula Bastemeyer.
While differential equations and practical applications of mathematic formulas came up as Gentry tried to take his mind off bowling, some simple arithmetic at the end of the tournament showed that his 707 series made him a regional champion and propelled Lawrence to a team title.
"If you're in the rhythm, then it's all muscle memory," Gentry said of his process. "The worst thing you can do is psych yourself out."
Gentry's calm demeanor led the way for LHS, as he, Austin Bennett (637), Pace Leggins (610), Isaiah Ross (587), Connor Daniels (580) and Tre Sexton (553) helped the Lions finish 18 pins ahead of runner-up Derby and 114 in front of third-place Topeka Washburn Rural, which also qualified their teams for the state tournament.
The 707 Gentry rolled wasn't only a tournament-best but also a season-high for Lawrence. Ross, who was happy to have his senior year extended, said Gentry came focused and ready to work.
"He's the most calm dude we have here. No nerves, no nothing," Ross said. "He knew we won, and he's sitting there straight-faced. I think that speaks everything about his sportsmanship, his heart and everything."
The regional tournament provided LHS with some redemption, Gentry said, as the bowlers rallied together to take the championship.
"It feels really good," he said, "because we've felt like we've thrown a lot of series away throughout the entire year."
While Free State's boys finished sixth, the Firebirds still managed to advance two of their bowlers to state. Juniors Jordan Jump (647) and Chase Taylor (609) both made the cut by having one of the top six individual series from a non-qualifying team.
After his first couple of rolls in the first game weren't too successful, Jump decided to switch the ball he was using.
"As soon as I did that, I knew it was gonna be a good day," he said.
Jump followed up a 189 in the first game with scores of 226 and 232.
Taylor, with a 214 in the first game, got off to a better start and hung around with a 199 and 196 in his final two games to snag the next-to-last available state berth.
Said Jump: "I'm really happy about that, because I didn't want to be alone going to state."
LHS sophomore Warren captures spot at state
Tears in her eyes, getting smothered with hugs from family members, Lawrence sophomore Kierstan Warren was genuinely surprised when she found out she had qualified for state Friday afternoon.
Warren, who bowled a 560 series, already had been announced as the 10th-place medalist at the girls regional, but her second and third games weren't up to her high standards and she feared she wouldn't crack the list of six non-qualifying team members to advance to state.
"In my opinion, I did not bowl my best today," Warren said. "I had a horrible lane."
It turned out Warren didn't have much to worry about. She had the second-best score of bowlers who weren't on the rosters of regional champ Junction City, runner-up Topeka Washburn Rural or third-place Derby. The Lions finished eighth at the regional and Free State was ninth, with no state qualifiers.
It will be up to Warren to represent the LHS girls program well at state, she said, adding that it was unfortunate she would be the only city girls bowler competing.
She had been looking forward to this opportunity since she missed qualifying for state by just four pins as a freshman.
"I really didn't think I was gonna make it," Warren said, "because we went up against very competitive and very good bowlers."
FSHS senior Haley Hanson's 465 series led the Firebirds. Freshman teammate Bri Martin was just one pin behind Hanson at 464.
The 6A state tournaments are Thursday at Northrock Lanes, in Wichita.
Copyright 2018 The Lawrence Journal-World. All rights reserved. This material may not be published, broadcast, rewritten or redistributed. We strive to uphold our values for every story published.