The Free State High girls basketball team played Friday night's game at the pace they prefer to play. They were going faster than a father rushing his wife to the hospital to give birth.
Photo Gallery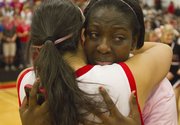 LHS girls vs. Free State
Come to think of it, maybe that's why Firebirds coach Bryan Duncan had his players build such a big lead early in the game — in case he got the phone call he'd been expecting. He had a team manager manning his phone all night in case his wife, Angela, called to inform the coach it was time to put the pedal to the metal to take her from their home in Basehor to St. Luke's South Hospital in Overland Park for the birth of their first child. Her due date came and went Tuesday.
With a record-breaking first quarter on the way to a record-breaking point total in a 79-45 victory against city rival Lawrence High, the Firebirds made sure to give their coach the big early lead he desired.
Scoring more points than a Free State girls team ever had in a quarter, the Firebirds took a 32-8 lead into the second period.
As if opponents didn't have enough to worry about while preparing a scouting report aimed at keeping the Firebirds from scoring at such a rapid rate, sophomore Scout Wiebe gave them one more worry to occupy their thoughts.
Wiebe, a 5-foot-8 sophomore who normally comes off the bench and makes her biggest impact playing intense defense, diving for loose balls, setting screens, rebounding, and efficiently performing numerous other duties that don't make their way onto the box score, showed another dimension Friday night.
Wiebe drew a starting assignment because Abbey Casady's duties with the school's choir took her to Wichita, from which she couldn't return until close to game time. It had been pre-arranged that Wiebe would start in her place, and she responded by scoring a career-high 12 points. They all came in the first quarter.
"They did?" Wiebe said after the game. "I didn't know that."
She did know why she and her teammates were able to break a single-game school scoring record for the third time this season and why the Firebirds (15-5) were able to set a single-season record for victories on the night they defeated the Lions (6-14).
"We're playing good team basketball," Wiebe said. "We've grown closer this year, and I think that's why we play so well as a team."
Guard Kennedy Kirkpatrick led the Firebirds with 21 points and Lynn Robinson (15 points) and Jackie Garcia (10 points) also reached double figures for the team that does a nice job of taking care of the basketball while playing at such a fast pace.
Wiebe's big first-quarter might have surprised some coaches, but Lawrence High's Nick Wood, who has coached youth basketball with Duncan in the summers, didn't blink.
"I've known Scout for years," Wood said. "I knew she would make life hard on me one day. That day arrived today."
Free State hit 13 of 16 shots in the whirlwind first quarter.
"It's amazing," Wood said of the first-quarter shooting. "They've got girls who can shoot."
At times, the Lions did a nice job of working the ball to Kionna Coleman (12 points) on the block, but with Free State doing such a good job of so swiftly turning 18 LHS turnovers into points, it made it difficult to cut into the huge lead Free State built out of the blocks.
— Check out Benton Smith's "Prep Appraisals" from the game."
Copyright 2018 The Lawrence Journal-World. All rights reserved. This material may not be published, broadcast, rewritten or redistributed. We strive to uphold our values for every story published.