As Kansas and Missouri prepare to meet on the basketball court for the 267th time Saturday, it might just be the last (in the regular season, anyway), thanks to conference realignment.
Here's a by-the-numbers look at the long rivalry:
• $1,500: The highest asking price for a ticket to the game on StubHub.com on Thursday. The lowest amount you could spend to get in the gates at Allen Fieldhouse? A mere $300.
• 26: When the series began in 1907, Teddy Roosevelt was serving as the United States' 26th president.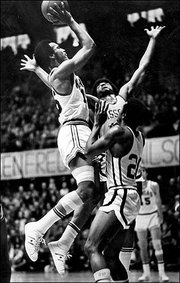 On the street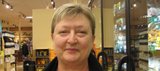 I'm sad to see (Missouri) leaving the conference because rivalry in sports is a good thing.
• 34-31: The score of the very first game in the rivalry. Missouri's first basketball coach, Isadore Anderson, got the best of KU's James Naismith on March 11, 1907, in Lawrence. The very next day, the two teams played again, and the Tigers did even better, getting the best of KU, 34-12. It went downhill from there for Missouri fans, though, as KU won the next seven.
• 50: Highest point total from a single player in the rivalry. Bud Stallworth scored 50 points in Allen Fieldhouse in 1972 in a 93-80 KU victory.
• 17: The number of Missouri head coaches who have coached in the rivalry, not counting interims. Norm Stewart coached in the most games, and the Allen Fieldhouse crowd finally got him to sit down — in a rocking chair no less — in 2003.
• 8: Number of Kansas coaches who have coached against Missouri. Current coach Bill Self's teams are 17-4.
• 14: The number of KU NBA players who participated in the "Legends of the Phog" game in September. Curtis Marsh, who leads the KU Info information service, points out that matches the number of Missouri players who have ever played in the NBA. Ever.
• 11-18-1885: The birthdate of legendary KU coach Phog Allen, who was born in Jamesport, Mo. It only took him until his teenage years to realize Kansas was the place for him.
• 143: The estimated number of people killed in William Quantrill's Aug. 21, 1863, raid on Lawrence that can be seen as the event that started all this animosity in the first place.
Copyright 2018 The Lawrence Journal-World. All rights reserved. This material may not be published, broadcast, rewritten or redistributed. We strive to uphold our values for every story published.