Overland Park — With heavy doses of driving and dishing, Lawrence High's boys basketball team showed just how deadly it can be on offense Tuesday night at Shawnee Mission North.
The Lions had one of those infectious everybody-makes-the-extra-pass kind of games, setting the table for a 60-50 road victory.
Each of Lawrence's top six players scored at least eight points, led by senior Logan Henrichs' 15, and their four starting perimeter players — Henrichs, KJ Pritchard, Shane Willoughby and Anthony Buffalomeat — combined for 16 assists.
Photo Gallery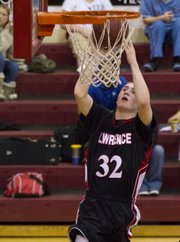 Lawrence High boys vs. Shawnee Mission North
It was Pritchard, often times this season a more assertive shooter, who did the bulk of the distributing for LHS (12-7). He made a habit of driving to the paint with the intent to kick the ball out to open shooters and, in doing so, racked up eight assists.
Pritchard made the Indians (4-15) pay for leaving his teammates open, and the senior, who also scored eight points, said he was happy to get them involved.
"If that's the role I have to take for us to be successful," Pritchard said, "then that's what I'm going to do."
Lawrence coach Mike Lewis, who saw Jake Mosiman score 11 points off the bench to complement the outputs of Henrichs, Pritchard, Willoughby (10), Buffalomeat (eight) and Bryce Montes de Oca (eight), enjoyed the way the Lions executed in the half-court on a night they went 22-for-44 as a team.
"It, no doubt, helps when we share the ball, and KJ draws a lot of attention," Lewis said. "When he can draw that attention and get the ball out to a good shooter, which on any given night we might have three or four on the floor, that gives us a confidence where that ball's coming out, you're wide open, catch and shoot it."
The Indians held a slim 31-30 advantage early in the third quarter before the Lions' passing sparked a run. Pritchard set up Henrichs for two three-pointers in a row before hitting Mosiman for a jumper on an in-bounds play. Later, Henrichs fed Montes de Oca in the paint for a bucket and Buffalomeat connected with Henrichs for his third three-point bomb of the quarter.
The Lions had a unique combination of guards that were willing and able to drive with the purpose of setting up their teammates.
"We could really be dangerous when you start making those extra passes and sharing the ball," Lewis said.
Willoughby praised Pritchard for facilitating the offense throughout the road win and was glad to see so many players cash in via the team's passing.
"If we have an on night shooting, we're gonna be really tough," the junior said.
Pritchard said the Lions are all equals on the floor, and they're all capable of scoring, so that led to easy offense.
"I think lately we've all been meshing really well together and we're finally coming on and making shots," Pritchard said. "For the first time in my high school career, everybody trusts each other out there."
Lewis liked his team's balanced attack, which helped Lawrence gradually extend its lead against the Indians. The Lions' defense, he added, made enough plays to compliment the offense.
"When they (SMN) came back and were hitting some shots, I thought we buckled in and did a good job defensively," the coach said. "We made some key rebounds and some guys stepped up and hit some shots."
North got within five points of LHS in the fourth, but with a layup by Montes de Oca and a drive by Willoughby, the Lions' lead moved to nine with six minutes to play.
At 7 p.m. Friday, Lawrence High plays host to Free State for the City Showdown.
Copyright 2018 The Lawrence Journal-World. All rights reserved. This material may not be published, broadcast, rewritten or redistributed. We strive to uphold our values for every story published.