Overland Park — In desperate need of a victory and holding a two-possession lead at halftime on Tuesday, Lawrence High girls basketball coach Nick Wood advised his Lions that someone would have to impose her will in the coming minutes to get a win.
As it turned out, Shawnee Mission North made the plays necessary to out-will visiting LHS in a 48-40 defeat that extended Lawrence's losing streak to six games.
Wood said LHS (6-13), which led by as many as eight points in the third quarter, matched the Indians (7-11) somewhat, but it was ultimately SMN that made more winning plays.
Photo Gallery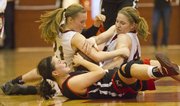 Lawrence High girls vs. Shawnee Mission North
In the third, it actually seemed like Lawrence might break out of its slump. Leading by five at the half, the Lions extended that margin to eight after a 15-foot jumper from sophomore Kionna Coleman and a three-pointer by junior Anna Wright.
"We were in complete control of the game," Wood said of that juncture, when LHS led 29-21.
But then SMN secured an offensive rebound and got a three-point play with a foul and free throw by Whitney Harvey. It was a sign of things to come and a turning point in the game.
"They did a better job than we did of winning those loose balls, getting those offensive rebounds and extra possessions," Wood said.
Though junior forward Bri Anderson would score on a drive with just more than four minutes left in the third to give LHS a 31-24 lead, what followed was a stretch of the Indians making plays on both ends of the floor and the Lions struggling on offense.
In the final 12 minutes of the game, Lawrence made just three field goals — one on an up-and-under move by junior Monica Howard with more than a minute left in the third, another on a Wright jumper off a Christina Haswood pass a minute and a half into the fourth, and a third on a Howard three-pointer from the top of the key with 1:28 left to play.
Howard's three cut the Indians' lead to 43-39, and a free throw by Coleman at the 1:07 mark made it a three-point game.
However, Lions droughts kept them out of reach of SMN, which outscored the visitors 24-9 after Anderson's third-quarter lay-in.
"That's why it's so important for us to get stops and not give teams extra possessions," Wood said, "because we do struggle to score at times."
Lawrence's defense was by no means terrible in the fourth quarter. The Indians hit just four of their 12 shot attempts. But the Lions went 2-for-12 in the fourth with four turnovers. They had even more trouble handling the ball in the third, when North's defense led to seven LHS give-aways.
"Their pressure, it kind of wore us down," Wood said. "We handled it great for about two and a half quarters."
Wright led the Lions with 14 points in the loss. Coleman scored nine points to go with four rebounds and three steals. Howard led LHS with nine boards and scored seven points. Anderson had six points and four rebounds off the bench.
At 5:30 p.m. Friday, Lawrence plays host to Free State for the City Showdown.
Copyright 2018 The Lawrence Journal-World. All rights reserved. This material may not be published, broadcast, rewritten or redistributed. We strive to uphold our values for every story published.