Prairie Village — The Free State boys executed one unlikely basket with the time winding down and the game on the line Tuesday.
The Firebirds just couldn't pull off the same feat twice.
Shawnee Mission East's Andy Hiett hit two critical threes in the final 45 seconds of overtime, and Free State's Brett Frantz missed a long desperation three at the buzzer as East held on for a 49-47 OT victory.
Photo Gallery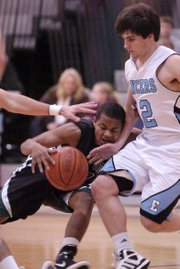 Free State boys vs. Shawnee Mission East
"That one hurts, but the kids had so much fight in them tonight," Free State coach Chuck Law said. "I'm really proud of that."
The Firebirds executed at the perfect time to give themselves a chance at an extra period.
Trailing 49-47, Free State had the ball under its own basket with 2.1 seconds remaining.
Law sent Cole Moreano to check into the game for guard Tyler Self, but at the last second, decided instead to pull out Cameron Dabney.
It ended up working out well.
After studying East's defense, Self believed he could free himself if he was able to get a backscreen from Moreano.
The two communicated with each other on the court, while Law yelled out some fake play numbers to try to confuse East.
It also confused Frantz, who didn't understand which inbounds play his team was running.
"Luckily I was looking over there," Frantz said, "so I could throw it to him."
Self cut from the left corner straight to the middle of the lane, with Moreano's screen sealing off Self's defender completely.
Frantz dropped it to Self, who rolled in a layup while also drawing a foul on East's Hiett.
With 0.8 seconds left, the game was tied at 41.
East took a timeout, and during the stoppage, the East students — along with the cheerleaders — moved themselves to the bleachers behind the basket to try to distract Self.
With a couple hundred students yelling, waving and screaming, the senior bounced his free throw off the back iron to send the game to overtime.
"I don't really think so much the students behind the goal affected me," Self said. "I probably just let the pressure get to me a little bit."
Free State still had a chance to win in overtime before Hiett took over.
The Firebirds' 1-3-1 defense had worked most of the night because of the Lancers' hesitation to shoot outside shots.
That changed in the final minute of overtime. With Free State leading 45-43 and 45 seconds left, East screened the backside of Free State's zone to open up a three for Hiett.
The 5-foot-10 senior — who was 1-for-6 from the floor and 0-for-2 from three up to that point — swished the shot from the left wing.
"We did our defense how we wanted to," Frantz said, "and they just hit shots."
Shawn Knighton put FSHS back in the lead, 47-46, with a pair of free throws with 25.7 seconds left, but Hiett answered. The senior buried a three from the right wing over Free State's zone with 8 seconds left to give East the lead for good.
"(Our guys) did what they were asked to do," Law said, "and that kid made a play."
Following a timeout, Free State couldn't pull off any more magic with 4.2 seconds left and the ball at half-court.
Self bobbled the inbounds pass, then tossed to Frantz for a desperation heave from near mid-court. The shot hit the wires above the backboard, and East students poured onto the court to celebrate the victory.
Free State actually fell behind 10-2 in the first quarter before its zone defenses started to frustrate East.
The Firebirds built their lead up to 37-29 with 7:12 left in the fourth quarter before going scoreless over the next seven minutes.
In that time, East used a 12-0 run to take a 41-37 lead.
"We didn't execute great in the half-court offensively," Law said. "You could tell they knew what our sets were and blew those up most of the time."
Frantz put in a layup with 10.5 seconds left before an East turnover gave it back to Free State, setting up Self's game-tying shot.
The senior Frantz led Free State with 18 points. He posted 13 after halftime with help from 3-for-3 three-point shooting in the third quarter.
Gabe Patterson added nine points, while Self had seven.
Free State had previously played Shawnee Mission East on Jan. 21, losing 65-51 in the McPherson Invitational.
"We had a chance to win, and Hiett made two great shots," Law said. "Kudos to him for stepping up as a senior."
Copyright 2018 The Lawrence Journal-World. All rights reserved. This material may not be published, broadcast, rewritten or redistributed. We strive to uphold our values for every story published.