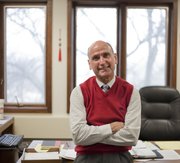 Osher Lifelong Learning Institute
Course catalog available by calling 864-5823 or online at osher.ku.edu
1 course and membership: $40
2 courses and membership: $65
Additional courses are discounted further
Lawrence course locations:
KU Continuing Education, 1515 St. Andrews Drive
Brandon Woods, 1501 Inverness Drive
Kansas University's Osher Lifelong Learning Institute, which offers courses and special events to people over 50, has a new director and plans to increase its reach and financial base.
Jim Peters became the Institute's director in January and is working on partnerships with community colleges and other organizations across the state of Kansas to broadcast and provide courses beyond northeast Kansas. The Osher Institute already offers courses to 800 students at 16 sites, including KU's Continuing Education building, 1515 St. Andrews Drive in west Lawrence, and many retirement communities in Kansas City and Topeka, as well as sites in Hutchinson, Hesston and Ulysses.
Peters, who became director after seven years in marketing and professional programs with KU's Continuing Education, also wants to increase memberships and expand the Friends of Osher fundraising arm of the organization.
The Osher Institute, established at KU in 2004, offers more than 40 courses in its spring catalog, ranging from arts to science to history. Many members are retired, but there are night classes for those still in the workforce. Most courses are taught by current and former KU faculty.
"This is the most fun thing that Continuing Education does," Peters said. "The audience comes for the pure joy of it — they're not looking for credit or to advance their careers. There is no homework, no tests and no pressure."
Most courses consist of six hours of class time, broken down into three two-hour sessions.
"It's just long enough for people to drill down and learn something but not so long that they have to commit for a whole semester," Peters said.
Peters said that many people kept coming back for courses not only because of the educational opportunity, but also because they established friendships with classmates and instructors.
"Many instructors have groupies," he joked.
Among some of the favorites: Paul Laird, KU professor of music, has established a following for his courses about Broadway musicals; Haskell Springer, retired KU English professor, teaches popular courses about poetry and literature; and Cynthia Haines, film critic and former associate professor of film studies at the University of Texas-El Paso, teaches about movies of the past and present.
Hilda Enoch, a retired junior high school teacher, searches the course schedule each semester to sign up for classes taught by her favorite instructors. She enjoys the atmosphere the instructors create in the classes.
"The people that come are people that ask good questions and are interested in learning. They are all seniors who don't really want to retire and they want to keep their minds active," she said.
Muff Kelly, a retired computer consultant, and her husband, John, a hospital architect, have been taking classes from the Osher Institute since they moved to Lawrence about five years ago.
"The classes looked interesting, so we signed up for some, and we've been hooked ever since," she said. "It's the beauty of being a student without the stress of being a student."
KU's Osher Institute is one of 117 Osher lifelong learning institutes in the United States. They were created with funding from The Bernard Osher Foundation, specifically to reach people over 50 with opportunities for education and the arts.
KU's Osher Institute achieved a milestone in 2007 when it reached 500 members and received a $1 million grant from foundation for doing so. The fund is administered through KU Endowment and subsidizes the courses and resources. When KU obtains 1,000 members, it will receive an additional $1 million from the Osher Foundation — something Peters is working to achieve.
"Continuing Education underwrites the program now, and we want to become self-sufficient. We want to keep costs low and have more public members," Peters said.
Peters hopes to increase KU's Friends of Osher fundraising to be able to expand the Osher Institute's programming, both in terms of course choices and locations. For example, he has met with community colleges throughout the state, and they all have expressed interest in offering courses, through closed-circuit television and/or in person. Peters said that he is even reaching out to Kansas State University and hopes to have courses on campus and in a retirement home in Manhattan this fall.
And, of course, Peters is always looking for ways to recruit new participants. Muff Kelly said that she had spread the word to her friends, as well.
"I think it's a wonderful resource in Lawrence. It is fun and engaging, and I highly recommend it," she said.
Copyright 2018 The Lawrence Journal-World. All rights reserved. This material may not be published, broadcast, rewritten or redistributed. We strive to uphold our values for every story published.