In the hunt for a state title, sometimes sacrifices have to be made.
For Lawrence High's wrestling team, which played host to a Class 6A regional tournament Saturday, that meant forgoing a possible regional championship with next weekend — and a trip to the state tournament — in mind.
Though 170-pound Lions junior Nick Pursel advanced to the finals with a pinfall victory in the first round and a major decision in the semifinals, LHS coach Pat Naughton determined before the tournament that Pursel, who is nursing a left-shoulder injury, wouldn't compete in the championship round as a precaution.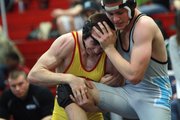 With Pursel's left arm in a sling, Shawnee Mission East's Blaine Hill won the 170-pound final by default, and the Lancers went on to win the team title, edging LHS by three points.
"We want to be sure he's good and rested for state," Naughton said of Pursel. "A regional championship is nice and all that, but you want to make sure your team's healthy, too, when you go down to state. I'll sacrifice a regional championship for a state championship."
When the state tourney begins at 10 a.m. Friday at Hartman Arena in Wichita, the No. 3-ranked Lions will have 10 wrestlers contributing to the team's quest for a crown. Half of those will come in as regional champions. Freshman Tristan Star (106 pounds), sophomore Garrett Girard (113), junior Hunter Haralson (126), junior Caden Lynch (132) and senior Reece Wright-Conklin (182) all won their championship matches for LHS.
Pursel, runner-up Brad Wilson (220), third-place finishers Macon Ezell (152) and Alex Jones (285) and fourth-place Ryan Walter (120) also will help LHS try to contend for a state title.
Wright-Conklin, a two-time individual state champion, was glad to see so many of his teammates extend their seasons. The senior said it will be nice to have Lions representing the program in 10 of the 14 weight classes.
"Ten is a great number any way you look at it," Wright-Conklin said. "It could be worse. We're going for a state title, so we're gonna need everyone we can get."
Lynch, too, was excited about the quantity of LHS grapplers punching their tickets. But he said once they get to state, a key to success will be not worrying about what is on the line or who will be on the other side of the mat.
"A match is a match," Lynch said.
That might be true, but LHS wrestlers showed more excitement than at nearly any other point in the day while watching Jones in the third-place match, the final contest of the day. The Lions went wild as the inexperienced sophomore turned a 1-0 deficit after two periods into a 6-3 victory.
Wright-Conklin said Jones is new to wrestling, and it was great to see the big man's teammates cheering for him.
"We didn't think he was ever gonna get this far," Wright-Conklin said. "So for him to do this, man, it's great for him."
Free State, which finished sixth at the eight-team regional, will send four of its wrestlers to Wichita. Though the Firebirds came up short in their three title matches — 132-pound senior Andrew McLees lost 21-9 to Lynch; junior Ben Soukup (152) fell, 17-5, to Shawnee Mission South's Clay Pearce; and Spencer Wilson was defeated by Wright-Conklin, 12-3, for the 182-pound title — coach Mike Gillman, who also saw 126-pound sophomore Maurice Jacobs qualify for state with a fourth-place finish, said advancing four wrestlers was important for the program.
"It means a lot, because we've been through a lot," Gillman said. "We've had issues."
Securing a spot meant plenty to Soukup in particular, who had missed a few weeks of wrestling because of a head injury but was cleared to compete in time for the regional.
"It's fantastic," Gillman said. "He had, the last couple years, missed it just barely. We told him, 'This is your year.' And he got really excited about it, and he wanted to make sure he qualified."
Copyright 2018 The Lawrence Journal-World. All rights reserved. This material may not be published, broadcast, rewritten or redistributed. We strive to uphold our values for every story published.