Lawrence High senior Zach Andregg already had taken third place in the 50 freestyle Saturday at the Class 6A state swimming and diving meet at Capitol Federal Natatorium.
Photo Gallery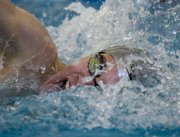 Class 6A swimming and diving
But that wasn't going to be enough to satisfy him on his final day competing for the LHS program.
Andregg thought to himself: "I only have one more chance to try to win and get a state championship."
It turned out the 500 freestyle was his best option. Andregg won the race by more than three seconds for his first state title. He had never cracked the top three in the 500 in his previous three trips to state, but Andregg was motivated and set a personal record with a time of 4:43.28.
"The guy who beat me in prelims (Wichita Heights' Kyle Cullinan) was coming in a second faster than me," the Lions senior said. "I was pretty worried that he was gonna be up there with me the whole entire time."
Actually, Cullinan ended up fifth. Zack Holbrook of state champion Shawnee Mission East came in second, and Free State sophomore Canaan Campbell took third.
However, LHS coach Kent McDonald said, neither swimmer was able to keep up with Andregg, who led by a couple of body-lengths early on.
"He just shut everyone down, and no one really had a shot at him once he got that lead," the coach said.
Andregg said his early advantage didn't slow him down, either: "I just went out really hard and about lap six I saw that they all weren't staying with me, so I just tried to floor it and get as big of a lead as possible."
That's an approach, Campbell said, that is hard to beat.
"He's so far ahead, you're just playing catch-up," the Firebirds sophomore said. "He has enough endurance — being a runner and the excellent athlete that he is — that he just held all of us off and swam a great race."
Obviously, there is much better competition to deal with at the state championships, and that led Andregg to change up his mental approach from a run-of-the-mill regular-season event.
"You really have to adjust to where you're ranked now," Andregg said. "You're not just coming in top seed by like 10 seconds every time. Now you're like neck-and-neck with guys. You definitely have to step back and get your priorities in line."
Andregg also swam with Adam Edmonds, Dylan Orth and Reid Hildenbrand in the 200 and 400 free relay events. The Lions took fourth in the 200, ninth in the 400 and finished 11th in team scoring.
Two Firebirds crack top 5
Campbell, who also finished fifth in the 200 free, was one of two Firebirds to pick up a pair of state medals. Junior Ben Sloan finished third in the 200 IM and came painfully close to winning the 100 butterfly but finished second with a personal-record-tying time of 51.11 seconds.
When Wichita East's Jake Spitz edged Sloan by 0.12 seconds for a state championship, FSHS coach Annette McDonald said it was disappointing in the moment, because Sloan had raced so well.
Sloan thought he had the race won — "I could see him, and I could tell it was gonna come down right to the finish," he said — because the Firebird's head was out in front of Spitz, but Sloan didn't see his competition stretching out his hands a little farther underwater.
Sloan said he couldn't be disappointed about his opponent out-reaching him at the finish.
"Both of us swam really close head-to-head. It was fun," he said.
Campbell set personal records in both the 200 free and 500 free. And he had no problem taking third in the 500 after settling for fifth in the prelims.
"I was really happy," Campbell said of the final. "I swam a terrible 500 (Friday), so I needed to come back out and swim faster."
The 200 free prelims hadn't gone as Campbell hoped, either. Annette McDonald said the sophomore bowed out of the 200 medley relay to conserve energy in the finals.
"To his credit, Hunter Robinson stepped up and swam the anchor on the medley relay," the coach said after Free State swimmers Connor Munk, Kyle Yoder, Sloan and Robinson took sixth.
The Firebirds also placed sixth in the 400 free relay to end the day, with Campbell, Munk, Nick Becker and Sloan getting Free State under the 3:20 mark (3:19.9) for the first time this season.
Munk finished 10th in the 100 backstroke, and FSHS took seventh place in the team standings.
Copyright 2018 The Lawrence Journal-World. All rights reserved. This material may not be published, broadcast, rewritten or redistributed. We strive to uphold our values for every story published.