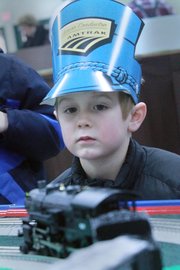 Nate Steinlage, 5, locks his gaze on a model train, then pulls a lever that makes the train cruise down the tracks toward a freight car.
Nate picks the freight car up on the back of the train, then shuttles it over to the west corner of the tracks. Nate is operating on a miniature time-saver layout, a famous train puzzle invented by John Allen. Basically five freight cars are displaced on the tracks. The train operator has to move them to their designated spots before time runs out. Expertly, with thoughtful and slow movements, Nate puts the last car in the right location before the 15-minute buzzer sounds. Nate is a big fan of trains. He has Thomas the Tank Engine pusher locomotives and thousands of train-related Legos.
"I can build them from sets, I can make bridges and ... tunnels, and I can control switch trains," Nate said. "I can (make my trains) wind around the house and come back through the living room again."
Nate was one of several hundred people excited to stop by the 11th annual Lawrence Model Railroad Club Train Show at the Douglas County Fairgrounds, 2110 Harper St. It's the Lawrence Model Railroad Club's only event of the year, and it operates on a break-even budget, giving extra proceeds to the Lawrence Interdenominational Nutrition Kitchen food pantry. In addition, the Lawrence Model Railroad Club collects canned goods for LINK, taking $1 off the $6 ticket price for those who bring food for donation.
Jim Taylor, show coordinator, was pleased with the number of people filing in and out of Building 21 at the fairgrounds Saturday. By 1 p.m., 300 people had stopped by the event to peruse the model trains. Taylor's interest in trains started when he was child — his dad had lots of trains, and Taylor can remember squatting and crawling to fix a train on his dad's set whenever one derailed — and his passion was revived again when he attended the Lawrence Model Railroad Club show back in 2003. After that show, he decided to join the club. He has been a member ever since.
"We get to display our hobby and our trains," Taylor said. "We get to show (our hobby) to young and old alike. ... I like meeting and talking to new people, and we get a lot of new (Model Railroad Club) members from the show."
For Paul Dutot, of Olathe, a passion for trains took root when he was a child. And his love of trains never diminished but was discarded temporarily as he married, had children and raised a family. Two of Dutot's children had a passion for trains when they were young, too, said Dutot, 67. But now they are raising families of their own and will probably put the hobby on hold until that time in their life is over.
A love for model trains is something that sprouts in the heart at a young age, Dutot said. But it's also a passion that can bloom again in adult life.
The passion is already growing in Nate and his brother, Blake, 8, both at the event.
"I started (with trains) when I was little," Blake said. "My uncle gave me a train set, and after that I got interested in them and started collecting more. I like to build tunnels out of Tinker Toys and put a blanket over it. Sometimes, if I have a lot of Legos, I like to build tunnels."
The boys' grandmother, Ellen Thompson, took them to the railroad show because of their marked interest in trains.
"It started with Legos. (They) have thousands of train-related Legos," Thompson said. "This is going to be the highlight of (their) day."
Copyright 2018 The Lawrence Journal-World. All rights reserved. This material may not be published, broadcast, rewritten or redistributed. We strive to uphold our values for every story published.