Photo Gallery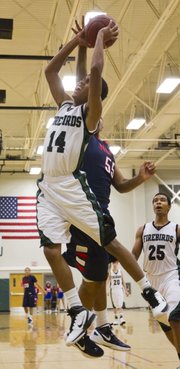 Free State boys vs. Olathe north
Senior Night played a pretty important role in the Free State boys' 66-54 Senior Night basketball victory over Olathe North on Friday night at FSHS, but not in the way one might think.
Because of a big ol' batch of nerves and a little extra excitement, the Firebirds struggled to put up just seven first-quarter points and trailed, 9-7, after one quarter.
But that's where the struggles stopped and the surge began. Powered by a 10-0 run to open the second quarter and a 7-0 run to close it, the Firebirds (7-11) built a 29-17 lead by halftime and never looked back.
Free State, which actually introduced all six of its seniors during the starting lineups, received contributions from all areas Friday night. Senior guard Brett Frantz led all scorers with 20 points. Senior post player Gabe Patterson came in right behind him with 19 points and nine rebounds. And fellow seniors Shawn Knighton (10 points), Cameron Dabney (nine points), Tyler Self (4 points) and Dimitar Gocevski (all kinds of energy) each contributed to the victory in which the Firebirds outscored the Eagles 45-24 during the second and third quarters combined.
"I think we really needed this because we've been in a slump," Patterson said. "I think the nerves got to us a little in the beginning, but we settled down, moved the ball and shots started to fall. Hopefully we can do it again Tuesday night."
With so many players playing the final home game of their careers, FSHS coach Chuck Law decided to scrap the usual pregame stuff and focus on what he thought was the most important aspect of the night.
"There were only two words written on the white board during pregame," Law said. "And those were 'Senior Night.' I thought everybody did a great job of contributing to the victory tonight."
Both Free State squads will travel to Shawnee Mission East on Tuesday, before wrapping up the regular season with Round 2 of the City Showdown against Lawrence High, Friday at LHS.
Copyright 2018 The Lawrence Journal-World. All rights reserved. This material may not be published, broadcast, rewritten or redistributed. We strive to uphold our values for every story published.