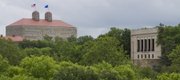 Subscribe to the email edition of Heard on the Hill and we'll deliver you the latest KU news and notes every weekday at noon.
Your daily dose of news, notes and links from around Kansas University.
• Perhaps you've heard of the 5-year-old girl from Olathe who's a Kansas State University fan and who doesn't like to color Jayhawks.
If not, you should go read this blog post from young Emma Burton's mother.
Essentially, young Emma was asked to color in a Jayhawk on Kansas Day, and she refused. The whole amusing story is at the blog post.
Her parents met at Kansas State, and it appears that Jayhawks don't get too much love in the Burton household.
Kansas State's president apparently wrote her a letter offering a scholarship for 2025. But that was a joke. Presumably.
Wildcat fans everywhere — even including "Modern Family" actor Eric Stonestreet — have taken an interest in the story, and young Emma was apparently honored at the KU-Kansas State game on Monday.
I have no idea who Emma's teacher is, but I say don't cave. University presidents and Hollywood actors be darned. Stand by your guns. I've even got a suggestion for the next coloring assignment.
• An alert reader wrote to Lawrence Journal-World headquarters here at Seventh and New Hampshire after reading this recent story on a helium shortage.
That person felt compelled to remind the world of the connection between KU and helium.
"Professor Cady is the man that discovered helium---right? That was taught us when we were taking chemistry classes at KU back in the 1940s," the person wrote.
My fuzzy memory recalls hearing something like that from someone walking backward by Bailey Hall on a campus visit to KU once, too.
As it turns out, that's kind of true, and kind of not so true, at least according to this article from the Journal-World in 2005, around the 100th anniversary of the discovery.
According to the article, Hamilton Cady, on Dec. 7, 1905, in Bailey Hall, and an assistant discovered "significant amounts of helium in a natural gas sample" from Dexter, a town in southeast Kansas.
The gas had previously been discovered, but was thought to be rare on Earth.
No word (that I can find, anyway) on if they tried to inhale any of the gas and talk to each other in that high, squeaky voice your uncle always made at parties.
• It's time once again for the KU engineering school's annual Expo, a two-day, student-run event designed to spark an interest in math and science.
More than 1,000 students from elementary school to high school will be participating in competitions and taking in displays.
Think Popsicle-stick towers, pasta bridges and egg drops. That sort of thing.
It's set for 8:30 a.m. to 2:30 p.m. Feb. 24 and 9 a.m. to 11:30 a.m. Feb. 25.
The chief administrative officer of Black & Veatch, Jim Lewis, will speak at 9:30 a.m. Feb. 24 at the Lied Center.
Here's some more information.
• You'll find me doing lots of stuff here at Heard on the Hill World Headquarters at Seventh and New Hampshire, but you'll never find me coloring a Powercat. I'm too busy taking your tips that you send to ahyland@ljworld.com.
Copyright 2018 The Lawrence Journal-World. All rights reserved. This material may not be published, broadcast, rewritten or redistributed. We strive to uphold our values for every story published.