Try saying this in a high, squeaky voice: Happy anniversary, helium.
One hundred years ago today, a Kansas University professor and an assistant discovered significant amounts of helium in a natural gas sample from Dexter, in southeast Kansas. In a research milestone, they showed that the gas previously believed to be rare on earth was available in plentiful quantities from the Great Plains.
But while the gas today is a frequent guest at birthday parties in children's balloons, KU officials have struggled to find a way to turn the tables and throw a party for helium.
"December is not a particularly good time of year to have thousands of helium balloons lining Jayhawk Boulevard," said Kevin Boatright, communications director for KU's office of the vice provost for research.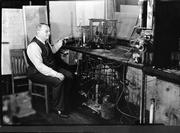 The university threw a bash five years ago when they placed a plaque on Bailey Hall, where professor Hamilton Cady and David McFarland did their work. The site is among about 40 National Historic Chemical Landmarks in the nation.
KU staff have tried to make this event festive. It even has a slogan: He=102.
As the centennial neared, Roger Martin, publications and features editor for the KU Center for Research, tried to take the festive spirit to network television, hoping the discovery's anniversary would be mentioned during this year's Macy's Thanksgiving Day Parade.
But he found that getting the word to the network commentators who could spread the word wasn't easy.
"They have several moats around the commentators," Martin said.
And it might not have been what networks were looking for.
"It may have been too serious for the Macy's parade," Boatright said.
So KU helium fans turned their focus to Lawrence. They assembled an impromptu group of faculty and others who will celebrate today with a cake and balloons. Details about the discovery of helium in natural gas will be displayed in one of several panels to be placed in the new Multidisciplinary Research Building. And, of course, the gas will continue to fill balloons at other birthday parties.
Helium trivia
Why does helium make your voice squeak if you inhale it?
It speeds up the velocity of sound made by your throat about 2.5 times. The frequency of the sound waves goes up, too. When the sound comes out of your mouth and hits the air, it slows down, but the frequency remains high. Presto. You sound like Donald Duck.
Source: Roger Martin, Kansas University
Copyright 2018 The Lawrence Journal-World. All rights reserved. This material may not be published, broadcast, rewritten or redistributed. We strive to uphold our values for every story published.