Although Tuesday marked Senior Night for Free State High's bowling team, the Firebirds' rivals from Lawrence High stole the show at Royal Crest Lanes.
Photo Gallery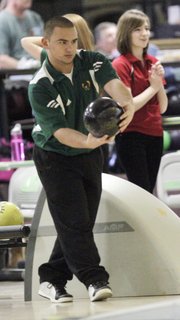 Lawrence High vs. Free State bowling
The Lions' boys and girls swept their FSHS counterparts in the regular-season finale for both schools.
The LHS boys didn't exactly think the win was a sure thing. They were confident coming in, but after a slow start for the team, junior Austin Bennett actually thought the Firebirds were going to win — a scenario that would've bummed out Lawrence's high roller, who finished with a 655 series.
Bennett and his teammates rejoiced when the final score was announced over the speakers: Lawrence 2,534, Free State 2,419.
Given the stage of a city showdown, Bennett said the victory was especially sweet.
"We know everybody on their team, so it's more fun," he said.
The Lawrence girls, who scored 2,100, won by an even larger margin than the boys in the dual — Free State finished at 1,832.
Lions sophomore Kierstan Warren, whose 612 series led all the girls, said this victory brought her team some extra joy, too.
"Everybody always talks about LHS like it's the older school. Free State's the newer one. They're kicking everybody's butt in every sport," she said. "Well, this time in bowling it didn't happen that way."
Warren said it is up to the bowlers from both schools to focus on the lanes during the rivalry dual, because it can be intense.
"The parents get worked up just like the kids do," she said.
It was a senior who led the way for the Free State girls at the dual. Meredith Baker finished with a series of 457.
"I've never been able to do that before. It was totally something new," she said.
However, Baker added, the Firebirds were disappointed they couldn't get the win with four seniors — Baker, Haley Hanson, Olivia Marshall and Danielle Stringer — in the lineup.
FSHS boys senior Nate Fiester described his team's loss as a "sad deal" on a "fun day." The Firebirds, with their two seniors Fiester and Kyle Hall, got off to a hot start with a score of 930 in the first game. Even though they couldn't keep it up, Fiester said Free State rolled well enough to save face.
"Basically, all our scores got us past that embarrassment point," he said with a laugh.
A junior, Chase Taylor, led Free State's boys with a 639 series. He was neck-and-neck with Bennett and LHS senior Isaiah Ross for the high score and ended up finishing just three pins behind Ross and 16 behind Bennett. Taylor said the rivalry brought about some healthy competition between him and Ross.
"We really want to give our best every time against each other," Taylor said.
Jordan Jump, a FSHS junior, rolled a 614 series, as did LHS senior Pace Leggins.
Rebecca McNemee had a 530 series for Lawrence's girls. Free State junior Emily Reno rolled a 450.
Both Free State and Lawrence will bowl at the Sunflower League Meet Friday at Shawnee.
Copyright 2018 The Lawrence Journal-World. All rights reserved. This material may not be published, broadcast, rewritten or redistributed. We strive to uphold our values for every story published.