Free State High's boys basketball team was inches away from its third straight loss Tuesday night.
Instead, the Firebirds avoided a major letdown at home against Shawnee Mission Northwest, securing a 47-45 win after Cougars senior forward Jackson Foth's last-second three-pointer rimmed out.
Photo Gallery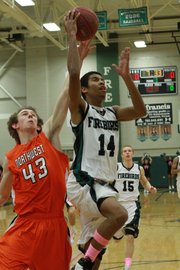 Free State boys vs. Shawnee Mission Northwest
With 6.8 seconds remaining, senior Free State forward Gabe Patterson hit one free throw to give the Firebirds (6-11) a two-point lead. After Patterson missed his second attempt from the foul line, the Cougars (6-12) called a timeout to set up what would be their final possession.
Though SMNW senior guard Blake Evans pushed the ball up the right sideline as the clock ticked down, a pass ahead was knocked out by FSHS, and Northwest had the ball out of bounds with 2.9 seconds on the fourth-quarter clock.
Following a timeout by Free State coach Chuck Law, SMNW sophomore guard Jake Horner made an in-bounds pass to Luke Fields, who was fouled by Firebirds senior point guard Shawn Knighton — FSHS had a foul to give — with 1.9 left.
Finally, Horner found Foth wide open for a three from the right corner and the would-be game-winner rattled out.
Senior Free State guard Brett Frantz, who led his team with 17 points, said the Firebirds knew that Foth would be the Cougars' go-to guy, but miscommunication led to a defensive breakdown.
"He was wide-open, and we just got lucky that he missed it," Frantz said.
It was a rare defensive miscue down the stretch, however, for the home team. Though FSHS let a 14-point first-half lead slip out of its grasp and fell behind in the fourth quarter, the Firebirds buckled down on defense in the final four minutes, holding SMNW scoreless after it took a 45-43 lead on a basket by Fields.
Junior backup forward Kyle McFarland cut to the hoop and caught a precise pass from Patterson to tie the game at 45 with 3:35 to play.
Both teams failed to put points on the board again until Knighton made one of two free-throw attempts with 18 seconds left.
Foth rebounded Knighton's miss and got the ball ahead to Horner, but the sophomore guard missed a layup contested by Patterson with slightly more than 10 seconds left on the clock.
Said Law: "We made enough plays, got some touches inside, made enough free throws — I think we missed some (Free State was 5-for-8 in the fourth quarter) — we made enough (and) executed beautifully down the stretch until the last play."
The Cougars were in a 22-8 hole after the first quarter, when Free State played its best basketball, and steadily crept closer. Northwest finally took its first lead of the game on a Logan Unrein basket late in the third quarter.
After the game, Law said his team opened the night with some great play, but it was unable to keep that up.
"Just like adversity, you've got to know how to handle prosperity," he said.
Still, the coach was proud of his players for not letting the victory get away from them after things headed south.
"I think you'd be hard-pressed to find a lot of people other than the guys on the (FSHS) bench that thought once they (SMNW) took that lead we were going to be able to get back and get a win," the coach said.
Cameron Dabney scored 10 of his 13 points in the first half for Free State. Fields led SMNW with 13 points.
At 7 p.m. Friday, the Firebirds play host to Olathe North.
Copyright 2018 The Lawrence Journal-World. All rights reserved. This material may not be published, broadcast, rewritten or redistributed. We strive to uphold our values for every story published.