News and notes from around town:
• On this Valentine's Day, the old Dean Martin phrase comes to mind: "When the moon hits your eye like a big a pizza pie, that's amore." Well Lawrence, beware of pepperoni in your eye. Yeah, I don't know what I'm rambling about either, but the point is there is a pizza movement underway in Lawrence.
The longtime Kansas City pizzeria Minsky's has filed plans at City Hall to open a restaurant in downtown Lawrence. Minsky's is set to take over the former Pizza Hut location at 934 Mass. I'll work on tracking down a Minsky's representative today to get a few more details about when the restaurant plans to open and what brings them to Lawrence.
But Lawrence architect Paul Werner is overseeing conversion of the building. He has indicated the remodel shouldn't take much time. The project is seeking city approval to change the facade of the old Pizza Hut building to give it a more traditional look, and also to add some sliding windows that would open the restaurant more to the sights and sounds of Massachusetts Street.
For those of you who haven't been to Minsky's, it has been operating in the Kansas City area since 1976. It looks like this will be the company's 15th restaurant, but only its second outside the metro area. One of the Kansas City troubadours on our staff — he really does sing inordinately often during staff meetings — gave us his recommendation. He suggested the seafood pizza, which of course, led me to label him a communist. But I checked out the menu myself, and there are plenty of other choices. The restaurant offers all of the traditional toppings — some old-school traditional, like anchovies, cilantro and basil. The restaurant, though, offers a host of gourmet pizzas, including a chicken cordon bleu, a tostada-style pie, and even a Philly cheese steak version.
Here's an idea: Maybe I'll bring home pizza tonight instead of a dozen roses. Provide a little Dean Martin serenade. Now, that's amore.
UPDATE: I got in touch with Kenny Kantner. He'll be a co-owner of the Lawrence Minsky's location, and he said he expects to open by late April or early May. Some of you may know Kantner. He used to work for Papa Kenos years ago before that business ran into some of its problems. (He also is a regular on a Lawrence kickball team.) When Kantner got out of that business, he went back to Kansas City but has long wanted to open up a true pizzeria in Lawrence.
Kantner said the company is excited to be back in Lawrence (it had a location in the 1980s near 23rd and Iowa), and expects a lot of Kansas City students at KU who have grown up on Minsky's to be frequent customers. For those of you who haven't had Minsky's, Kantner said it is not quite New York style, not Chicago style.
"We tell people we're Kansas City style," Kantner said. "We're not real thin crust, although we offer it, our original is something in between New York and Chicago style."
In addition, it looks like the restaurant will offer pasta and hot sandwiches. I did forget to ask Kantner whether the restaurant will offer delivery, but it looks like all the other Minsky's offer delivery.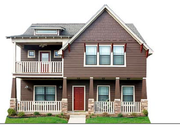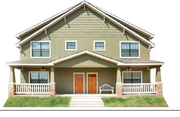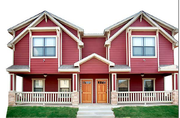 • I'll be a bit late with the pizza, though, dear. As we've previously reported, the Lawrence City Commission is meeting tonight — although it starts at an early time of 5 p.m. — to consider approving a large new apartment complex on the site of the Gaslight Mobile Home Village near 31st and Iowa streets.
As I've mentioned several times, this new apartment complex — about 1,000 bedrooms geared toward students — won't be a traditional complex. Instead it will have more than 150 individual buildings that will be designed to look like traditional houses. There will be a mix of four-bedroom cottages and two- and three-bedroom duplex units.
Anyway, I've had some people ask me what these buildings are really going to look like. So, I found some pictures buried in a staff report. Click on the pictures to the left of this article to get a better look.
Or, come down to City Hall and spend your Valentine's Day with us. There won't be much amore, but there will be pizza. (If you bring it, that is.)
• Also on the menu for tonight's commission meeting is coffee. (No, there won't be any available — again — unless you bring it), but commissioners are set to clear the way for a new coffee shop to open in East Lawrence.
As we've previously reported, the folks at the Lawrence-based design-build firm Struct/Restruct are looking to open a coffee shop at 920 Del. Commissioners tonight are scheduled to approve a rezoning for the old industrial building, which is right in front of the Allen Press property, that will allow a coffee shop/art space.
Copyright 2018 The Lawrence Journal-World. All rights reserved. This material may not be published, broadcast, rewritten or redistributed. We strive to uphold our values for every story published.